Mortal Kombat vs. DC Universe

By
.(JavaScript must be enabled to view this email address)
December 10, 2008
|
Share

Del.icio.us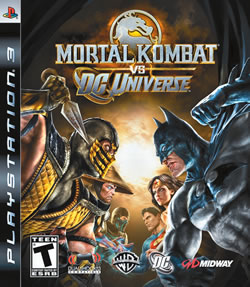 Mortal Kombat vs. DC Universe is one of the games I was looking forward to this year, and it came out in mid-November. It's a fighter-type game that makes you feel as if you just stepped into a comic book. You see your favorite Mortal Kombat characters (i.e. Scorpion, Sub-Zero, Liu Kang) as well as DC characters (i.e. Batman, Superman, Wonder Woman, The Joker) while battling all over the place. This game brings together all those heroes, anti-heroes, villains and vigilantes in the distinctive Mortal Kombat style.
"Mortal Kombat vs. DC Universe brings together iconic characters from both the DC Comics' and Mortal Kombat video game universes to give gamers the opportunity to take part in extraordinary battles," says Scott Johnson, vice president of business development for Warner Bros. Interactive Entertainment. "Working with Midway, we are allowing fans to control the destiny of famous heroes and villains with enhanced graphics and combat."
There are 22 playable characters to choose from either side. If you're used to fighter games, you'll immediately pick up on the basic moves - kicking, punching, throwing and blocking. It takes a little while to figure out the key combos, but after a few fights you'll learn them fairly quickly.
Each character has his/her own specific moves to take down opponents in his/her signature style. Or you can always use the RAGE to make yourself very powerful for a short period of time.
Although the action is fast-paced, the characters move slowly in relation to how fast you're pushing the buttons on your controller. For example, Flash moves very sluggishly when he's supposed to be speedy. In fact, all the characters seem to move at the same slow speed, and there doesn't seem to be any differential between them. Despite that, the attacks at least look powerful and, as the blows come, you even see clothing getting ripped and skin bruised and bloody. An interesting fighting mechanic introduced in this game is Freeball Kombat.
This allows you to fight in mid-air while falling from one arena to another. This usually happens when you push your opponent through the barrier of the arena you're fighting in. You can usually do a good 30 percent damage from one of these.
Past Mortal Kombat titles have been known to have gory game-play, but you won't see that in this game. It's very mild. Everything takes place in 3D, so you can move left to right as well as back and forth. The majority of your moves are left to right, which reminds me of the original Mortal Kombat.
Overall, this is enjoyable to play, especially if you rotate through the characters to keep it diverse. The two storylines keep you interested, but short. Playing through the arcade mode becomes a little boring after awhile, but serves as good practice to learn your moves. Playing online keeps your game-play varied since you're dealing with people on all levels.
Mortal Kombat vs. DC Universe is rated T for Teen, retails for $59.95 ($69.95 for Kollector's Edition), and is available for the PlayStation 3 and Xbox 360. Find it at your nearest Best Buy (www.bestbuy.com), Toys N Joys (www.toysnjoys.com) or on Amazon (www.amazon.com). Visit www.worldscollide.com for more information on the game.
Most Recent Comment(s):