Move Over, Apple, It's Google TV

By
.(JavaScript must be enabled to view this email address)
September 15, 2010
|
Share

Del.icio.us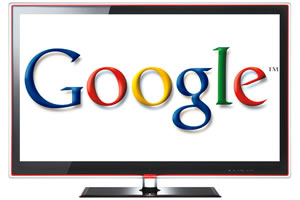 We saw Google roll out its free phone service a few weeks ago, and now Google TV is coming. The service will be available in the United States this fall and worldwide next year. The announcement came less than a week after rival Apple unveiled its new Apple TV.
Google TV is a new experience made for television that combines the TV we know and love with the freedom and power of the Internet. So far, Google has partnered with Sony, Logitech, Intel and DISH Network. Samsung also says it may make specially designed televisions to run with Google's software. Google TV will include video-on-demand products from Amazon.com, Netflix and Hulu.
This new service comes as Google seeks to explore avenues other than its search engine. At the moment, most of Google's revenue is dependent on search advertising. Google product marketing representative Brittany Bohnet told Bloomberg, "Google will continue to make money from advertising that appears in the browser, as is the case when consumers use the search engine on a computer or mobile phone. It will not charge manufacturers to use the software for Google Web TV, nor will it charge content providers that make their material available. Google TV pulls together a list of results from your TV lineup and free stuff on the Web, and additional on-demand video from, for instance, Amazon, on demand. Some content will be free and some will generate a charge."
There are 60,000-plus applications currently available on the Android Store and "thousands" will work on TV, and there will be new ones designed specifically for Google TV use. Google CEO Eric Schmidt says that Google will announce later this year partnerships with tablet computer companies that would use Google's Chrome operating system (rather than Android software). It plans to make Chrome the center of an operating system for these tablets as an alternative to the typical Microsoft Windows.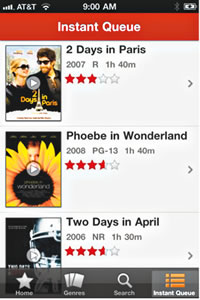 In addition, Reuters reported a couple weeks ago that Google was in talks with music labels for a music download store and a digital song locker.
Visit google.com/tv for more information.

Click Chick's Mobile App of the Week: Netflix
After Netflix made its iPad app debut, rumors of an iPhone/iPod touch version have been circulating for months, and now it's finally here! Although the screen of your iPhone/iPod touch doesn't quite add up to your iPad screen size-wise, it's great to have the option to stream your Netflix movies on your phone. The nice thing about this Netflix app is that it picks up where you left off, whether you watched your last scene from your TV, PS3 or Wii. The app only allows you to add and delete items from your instant queue, and you can't browse all movies or manage your rental queue.
This app works wonderfully over 3G (as well as a Wi-Fi hotspot). You can download it for free at the iTunes App Store, but note you'll need at least the $8.99/month plan from Netflix to qualify for the instant viewing feature.
Most Recent Comment(s):