Move over, Blackberry, here comes Apple

By
.(JavaScript must be enabled to view this email address)
March 14, 2008
|
Share

Del.icio.us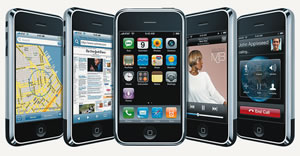 Last week Apple announced and previewed the release of its iPhone 2.0 software beta, slated for release this June. The beta includes the iPhone Software Development Kit (SDK) and enterprise features, such as support for Microsoft Exchange ActiveSync. In short, this gives the iPhone the functionality that typically would be sought after with a Blackberry device.
"We're excited about creating a vibrant third-party developer community with potentially thousands of native applications for iPhone and iPod touch," said Steve Jobs, Apple's CEO. "iPhone's enterprise features combined with its revolutionary Multi-Touch user interface and advanced software architecture provide the best user experience and the most advanced software platform ever for a mobile device."
Among business users, previous lack of the Exchange support was probably the biggest complaint about the iPhone. This specific update will turn your iPhone into more of a mobile computer by enabling Microsoft Exchange ActiveSync to provide secure, over-the-air push e-mail, contacts, calendars and the addition of Cisco IPsec VPN for encrypted access to private corporate networks, thus opening a whole new door for the iPhone.
Apple licensed Exchange ActiveSync from Microsoft and is building it into the iPhone so that it can connect out-of-the-box to Microsoft Exchange Servers 2003/2007. This built-in Exchange support also enables security features such as remote wipe, password policies and auto-discovery. Additionally, WPA2 Enterprise with 802.1x authentication enables you to use your iPhone and iPod touch with the latest standards for Wi-Fi network protection.
The refreshing thing is that with the iPhone SDK, anybody will be able to build native applications for the iPhone with a rich set of Application Programming Interfaces (APIs). This means exciting new applications that can utilize the iPhone's Multi-Touch user interface. In addition to Microsoft and Cisco, other third-party developer companies on-board with this so far include AOL, Disney, Electronic Arts, Epocrates, Genentech, Nike and Sega.

iPhone Software Development Kit
I'm looking forward to seeing some of the games by these developers. In fact, Electronic Arts' CEO John Riccitiello said, "The animation technology in the iPhone OS enables us to build awesome games. I think iPhone consumers are going to be blown away by the games we create for this platform." The SDK gives the developer a reliable, fast and secure way to create something innovative for the iPhone/iPod touch. It provides advanced tools such as Xcode for source code editing, project management and graphical debugging; Interface Builder with drag and drop interface creation and live preview; Instruments to monitor and optimize iPhone application performance in real time; and iPhone Simulator to run and debug applications.
During the beta period, a limited number of developers will be accepted into Apple's new Developer program and offered the ability to get code onto iPhones for testing. The Standard Program is $99 per year and the Enterprise Program costs $299 per year. You can try it at developer.apple.com/iphone/program.
In addition, the iPhone 2.0 software release will contain the App Store, a new application that will let you browse, search, purchase and wirelessly download third-party applications directly onto your iPhone or iPod touch. Several new Mail features were added, such as the ability to view PowerPoint, Word or Excel documents, along with being able to mass delete and move e-mail messages.
The bottom line: This software update could easily propel the iPhone past the Blackberry and become the overall most popular phone in America. We'll see what happens. The final release of the iPhone 2.0 software, with the SDK and new enterprise features, will be available to all iPhone customers by the end of June. The third-party applications created for the iPhone also will be available for the iPod touch as a paid software update. Visit Apple's website (www.apple.com) for more information.
Most Recent Comment(s):