MySpace now the place for music downloads

By
.(JavaScript must be enabled to view this email address)
October 03, 2008
|
Share

Del.icio.us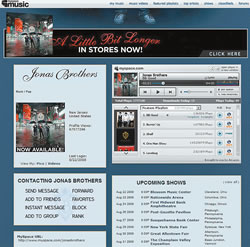 If you are an avid MySpace user, you probably already heard about last week's big MySpace Music announcement. But in case you don't use it or haven't heard, MySpace joined with venture partners EMI Music, Sony BMG Music Entertainment, Universal Music Group and Sony ATV/Music Publishing to bring all this music to our fingertips to stream for free.
"The whole consumption patterns for both music and video have changed a great deal in the last five years," MySpace co-founder and CEO Chris DeWolfe said. "We wanted to put together a music service consistent with those changing patterns and layer a business model around it."
This announcement marks the first phase in a global product rollout that includes a vast catalog of premium and promotional content with a wide selection of user-to-user sharing tools, digital e-commerce opportunities and eventually sales of merchandise and concert tickets. Included with the first phase is the MyMusic toolset, audio streaming, playlists, content catalogues, music e-commerce downloads (by Amazon MP3) and ringtones (powered by Jamster).
"We're not sure how big this will be, but it's exactly where we need to be," says Rio Caraeff, digital executive vice-president a t Universal Music, the industry leader. "We need to diversify our sales away from just physical sales, and that means selling music any place a consumer wants to get it," he added.
MyMusic is a personal music m a n a gem en t toolset that allows you to download, stream and personalize your music content. Here you can create public or private playlists, and stream all your playlisted content on-demand and purchase the mp3s of your favored songs. You can also add your friend's playlist to your own profile, or take songs from your friend's profile to add to your own.

You can use MySpace Music's enhanced search capability to browse and search for music by artist, song title or album title.
Just to test it out, I did several random searches, and the only items that did not show up were certain Hawaiian songs. There was a pretty good selection of Hawaiian music on there, but not everything came up.
It even found my favorite Chinese artists.
Your MySpace account is required to participate in this, but if you do not have one, you can easily create one for free. It's worth it just to use this music feature, especially if you have no other way to access music.
Personally, I haven't used my MySpace account for months, but with this new music function it just might entice me to log in more often.
MySpace Music hosts more than five million major indep e n d e n t (indie) and u nsigned artists within the site's music profiles section. This gives you a vast artist-p ow e r e d collection of songs, m u s i c videos, tour dates, blogs and photos.
All this access to millions and millions of songs is awesome, but note you can't actually download these songs onto your music player unless you purchase the songs. You'll also have to put up with some ads from the sponsors - McDonald's, Sony Pictures, State Farm and Toyota. However, you'll have opportunities to win free music downloads from these guys.
Discover your MySpace Music at music.myspace.com.
Most Recent Comment(s):