Netgear's New Powerline Router

By
.(JavaScript must be enabled to view this email address)
July 12, 2006
|
Share

Del.icio.us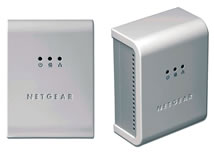 Powerline HD Ethernet Adapter
I'm always looking for ways to improve my wireless home network, especially if it involves saving space, since I live in a small home. Well, Netgear just came out with the Powerline HD Ethernet Adapter, which allows you to turn any AC 110-volt electrical outlet into a high-speed Ethernet broadband connection.
The adapter offers you the ability to perform HD-streaming to view high-quality video (built-in Video Quality of Service, or VQoS), play your online games and talk with Voiceover Internet Protocol (VoIP) just as you would a normal Internet connection. If you live in an apartment, town-house or any other close-quarters situation as I do, you don't need to worry about your network becoming compromised since it is equipped with encryption for consistent performance.
The Powerline HD Ethernet Adapter Kit (HDXB101) consists of two Powerline HD Ethernet Adapters, an Ethernet cable and a setup CD. All you need to do is plug in one of the white adapters to an electrical outlet (and your router) and the other into your computer, game console or print server. It will give you the luxury of quick speeds up to 200 Mbps without interruption or a complicated setup procedure.
Your large file transfers, such as backups or copying pictures, to networked storage devices will be up to 12 times faster compared to previous Powerline products.
The adapter is based on the Design of Systems on Silicon (DS2) chipset, which provides the underlying hardware behind powerline networking technology. With DS2, Netgear has developed an excellent solution to bridge the gap in areas of your home that aren't conducive to wireless, and doing it without the spaghetti-cord mess. The evolution of this high-speed Powerline product uses your existing electrical wiring to route data and provides an interesting alternative.
Although it works over your home's electrical wires, the two adapters don't need to be on the same circuit. However, you should plug each adapter into a dedicated electrical outlet. The powerline technology has been tested in various homes and apartments in the United States. It will not be limited to the North American market, and most likely will be available in Europe and Asia in the near future.
The Netgear Powerline HD Ethernet Adapter Kit (HDXB101) containing the two adapters is $249.99. If you need to connect additional devices to your network, a single adapter (HDX101) will cost you $129.99. Both are available at your nearest CompUSA or www.compusa.com.
Most Recent Comment(s):