Never Lock Yourself Out Again

By
.(JavaScript must be enabled to view this email address)
February 17, 2006
|
Share

Del.icio.us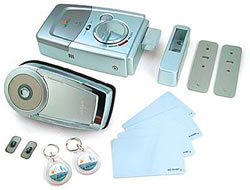 MyKey 2300
I'm ashamed to admit it, and I swear I'm usually not one to do it, but I locked myself out of the house recently. Umm, four times within the past three months to be exact. I've either been buzzing from too much Starbucks or really sleep-deprived, or maybe a combination of both. Unfortunately there is no spare key hiding anywhere near the door, so I've had to wait for someone to come by to unlock it for me.
Well, thanks to good ol' RFID (radio frequency identification) technology, I won't have to worry about locking myself out again.
Although RFID has been around for a while, the MyKey 2300 lock brings it down to a very useable and affordable consumer level that you can put on your door. With this lock, use the included cards or keyfobs to open your door instead of a key. If you don't have either of those with you, use the keypad to enter a PIN. You will never need to call a locksmith or wait for someone to come home with a key again, and having to change your lockset will be a thing of the past. You can change your PIN and reprogram your RFID cards should you ever lose your keys or have them stolen. There is no need to change the lock out.
The MyKey 2300 is pickproof since it has no keyholes and comes standard with a night deadbolt function. It disables all external functions, allowing you to have a peaceful, worry-free sleep. It also has a built-in alarm that will most likely deter thieves at the door if they try to forcibly enter. It is powered by four AA batteries and comes with eight RFID smart keys (four cards, two fobs and two tags). It features an automatic and a manual lock mode and external contacts (for a 9-volt battery) in case the batteries in the lock die. An external forced lock mode prevents unauthorized opening through a mail slot or window. On both the inside and outside of your door, it'll take up about six inches of space. Be careful where you install it since you have to make sure it's not going to get wet from those mauka showers, especially the sideways rain.
The MyKey 2300 is available for $299.99 at ThinkGeek.com
. Kind of pricey for a lock, but it's worth it if you're the type of person to lock yourself out often. Think of all the money you'll save in the long run. And, I swear, I usually do not lock myself out; this has just been a fluke!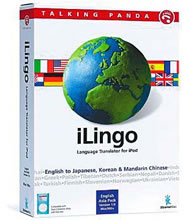 iLingo
iLingo Languages For Your iPod. I'm one to pick up on foreign languages fairly quickly, especially while I'm traveling. But sometimes it is nice to have a dictionary or a guide to simple words while I'm going around. Since I have my iPod on me at just about all times anyway, it's the ideal way to quickly access foreign phrases on demand without having to lug around a clunky dictionary. iLingo (made by Talking Panda) conveniently turns an iPod into an audio phrase book to take you through your overseas travels. It provides common words, phrases and pronunciations, and you can see on your iPod's screen how to write the words and phonetically sound them out.
The program is organized into simple categories such as greetings, shopping and emergency, so when nature calls you can easily find a bathroom. Other categories include getting directions, dining, making friends and entertainment, just to name a few. Each language translator includes more than 400 phrases, and the audio files are recorded by native speakers, so the pronunciations are easy to follow and unaccented. If you don't catch the phrases right away, you can turn on the repeat feature on your iPod, and it will play the phrase over and over again. Beware of that, though. I did that a little while I listened to the Mandarin set, and I felt like I was back in the language lab at UH. But it was a good brush-up anyway.
When you install iLingo onto your iPod, you need to pay close attention because it will create a whole bunch of audio files, however, you don't access the program by clicking on the audio files directly. You need to go to your iPod's main menu and go to "Extras," then onto "Notes," then you will see it.
Unfortunately iLingo will not work on an iPod shuffle or any iPod purchased before May 2003 because of the lack of a note reader feature required to run it. It is compatible with both Mac OS X (version 10.2 or later) and Windows 2000 or XP. You also need 50 MB of free space on your iPod and iTunes 4.7 or later installed on your computer.
Broaden your horizons with the iLingo AsiaPack 2.0 for $39.95, which includes Cantonese, Mandarin, Japanese and Korean. Or, the iLingo EuroPack 2.0 is $49.95 and includes French, German, Italian, Spanish, Portuguese and Russian. Check out www.talkingpanda.com to purchase either one. The website also offers a 65-phrase trial version (English-to-Japanese) and a demo you can tinker with if you just want to explore.
Most Recent Comment(s):
For all comments click here.