New fix-it-yourself software for Macs

By
.(JavaScript must be enabled to view this email address)
April 20, 2007
|
Share

Del.icio.us
I found computer fix-it software at this year's MacWorld conference that I just had to share with you Mac users. Actually, the software itself isn't anything new, but what you install it on is different. You would typically see computer utilities on a CD, but unless you do tech support, you probably wouldn't be walking around with a boot disk in your back pocket. Micromat's TechTool Protogo, exclusively for the Mac, allows you to use your old iPod or flash drive as a bootable diagnostic tool.
As long as your device is 2GB or bigger, you can load up Protogo. Note that whatever device you use, it has to be FireWire since your Mac will NOT boot off USB. If you have an old iPod lying around, that's perfect. That's what I used for my test ... the old "brick." On it Protogo installed Console, Disk Utility, DiskStudio, System Profiler, Terminal and, of course, Tech Tool Pro.You can also add in your own utilities, and still have ample room left for data backups.
If you don't happen to have any spare FireWire drive or old iPods around, you can buy the TechTool Protege FireWire device. It's a pocket-sized drive that comes with the same tools pre-loaded. Additionally, this device won Best of Show at MacWorld. Unfortunately, since it's only 1GB, you won't be able to do any additional backups on it.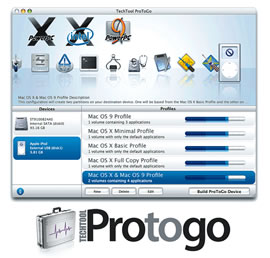 Micromat's TechTool Pro itself is nothing new, but this latest version is 4.5.2. The software includes just about everything you can think of to fix your computer. You can run an array of tests from basic (checks your processor, memory, disk controller and more) to the advanced test (surface scans of your hard drives). I ran the basic test just to see what it would do. Of course, it was all good (as expected since this is a new computer),and it even told me where my computer was manufactured with the specific date.You can do optimizations (hard drive defragmentation), data recovery, data wipes, critical data directory backups, monitor calibration, use the Smart Setup tool to automatically check your hard drives,and more.
If that sounds intimidating, don't worry because you don't have to be a brainiac to run TechTool Pro 4. These tests are pretty much point and click. Or, if you're on the other side of the fence and want to intimately explore your computer, the more detailed tests will satisfy your curiosity. In either case, TechTool Pro is for everyone - and keep in mind this is what will be on your portable drive with Protogo too!
To run Protogo 1.0.3 you need Mac OS X 10.4 or above, a DVDROM and 512 MB RAM. You can find it for $135, TechTool Protégé for $229, or just the TechTool Pro software for $98 at www.micromat.com. These are worth it considering they can possibly save your Mac one day.
Unfortunately there's no PC version. In addition, if you have one of the really old Beige G3 Macs, you need to use TechTool Pro Classic ($97).
Most Recent Comment(s):