Next Generation: Playstation 3

By
.(JavaScript must be enabled to view this email address)
June 04, 2005
|
Share

Del.icio.us
I waited more than an hour at E3 in anticipation to see Sony's PlayStation 3 (PS3). After the long line (I felt like I was at Disneyland waiting for a ride), we were herded into a dark room to watch a video about Sony's high definition (HD) capabilities. Then after that was done, we were herded into another dark room to watch a second video that showed clips of the PS3 and a few of its games including Kill Zone 2, a highly anticipated PS3 game. The doors to the room opened and there it was … the PS3, on a turntable behind a protective plexiglass case. Was it worth the wait and the long videos? Yep, it sure was.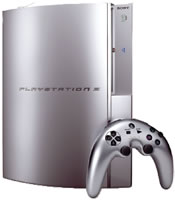 The PS3 is about the same size as the PlayStation 2 (PS2), but it's more rounded and sleek. The controllers are wireless Bluetooth, and up to seven can be used at the same time on one PS3. (It's rumored that these controllers can hold a charge for up to 24 hours.) I also saw that it had six USB 2.0 ports, an Ethernet port, HDMI (High Definition Multimedia Interface), a removable hard drive (storage size unknown), and you can use your Memory Stick or Memory Stick Duo on it.
With its backwards capability, you'll be able to play all your favorite games from the first PlayStation and PS2. A specific line-up of PS3 games is not yet available. The quality of the Kill Zone 2 game I saw in the demonstration video was remarkable, but there's some controversy as to whether that was actual game play or prerendered video. With the PS3's new processor, I believe it's more than capable of having that quality. The 3.2 GHz Cell Processor gives the PS3 the power of a super computer. It's approximately 10 times faster than the current fastest desktop computer processor and 32 times faster than the PS2. It offers high performance for movie-like realism in games and HD movies. I was not able to get an answer from Sony officials as to whether or not Kill Zone 2 was true game play.
When the PS3 comes out in spring 2006, you can buy it in black, silver or white. No word yet on what the price will be.
A lot of people ask me which console will be better, the PS3 or the Xbox 360. The answer is I don't know at this point since the PS3 was not available for play at E3. Stay tuned for more information in the future. For myself, and other hardcore gamers I know, we'll end up getting both.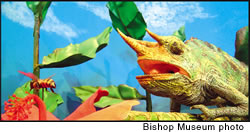 One of the first things you'll see at Bishop
Museum's 'Reptiles: Real and Robotic' is this
lifelike Jackson's chameleon
Robotic Reptiles. Even though I grew up here in Hawaii around geckos, I've never been a big fan of them. Those who know me well know that I won't even walk through a door if a gecko is hovering above waiting to pounce on me. I would rather stand outside for 10 minutes and wait for it to catch a termite and go away. My psychological fear doesn't end at geckos — it goes for toads, frogs, snakes and other creepy-crawlies.
When I found out about Bishop Museum's newest reptile exhibit, I honestly wasn't that excited to see it. But knowing that the exhibit would not consist of live creatures, I went. "Reptiles: Real and Robotic" is impressive. Largerthan- life-sized robotically controlled reptiles represent the four major groups — lizards, snakes, turtles and crocodiles. One of the first things you see when walking into the exhibit is a Jackson's chameleon trying to catch a fly that's sitting on a hibiscus flower. Its eyes realistically move sideways and it has a long retracting tongue just like a real Jackson's chameleon.
Another new innovation for Bishop Museum is the Science Learning Center. It will have more than 16,000 square feet of interactive exhibits and provide opportunities to explore and learn about the volcanoes, oceans and biology of the Hawaiian Islands. It'll even have a "deep ocean" tank where visitors can operate underwater robotic vehicles. Expect to see the Science Learning Center open this fall.
Even if, like me, you're not a big reptile fan, it's still worth it to take a trip down to the museum to see these big reptile robots. "Reptiles: Real and Robotic" is on display through Sept. 11 and open daily from 9 a.m. to 5 p.m. Admission is $14.95 for adults and $11.95 for children 4-12. Discount rates are available for kama'aina and military. Call 847-3511 or visit www.bishopmuseum.com for more information.
.(JavaScript must be enabled to view this email address)
www.click-chick.com
Most Recent Comment(s):
Commenting is not available in this weblog entry.