Nike+iPod: Running With The Gear

By
.(JavaScript must be enabled to view this email address)
August 02, 2006
|
Share

Del.icio.us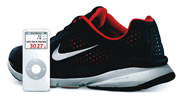 Ever since I started running, I've tried multiple pedometers to track my miles, but none of them was accurate so I gave up on them. I found this very frustrating because I always want to know the exact distance I run to track myself. Well, Apple and Nike partnered up to offer an accurate solution to this runner's problem.
The Nike + iPod Sport is the newest gadget that takes you running. It turns your iPod nano into a personal trainer while you choose different workout options - an open-ended work-out, timed goal, distance goal and a calorie-burning goal. You need to calibrate the iPod sensor for accuracy to your body and take it for a test run. You also have to pick the music for your workout, and most importantly your PowerSong. When you start to slow down while going up that huge hill, your chosen PowerSong will automatically play to get your legs pumping again.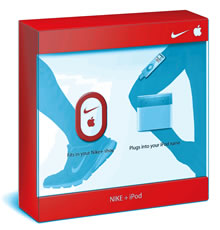 While you're running, your iPod nano will show you elapsed time, current pace, distance covered, calories burned and title/artist/album of the song you're listening to. You'll also hear a voice giving you feedback on your run progress (customizable to a male or female voice). All your workout data is then stored on your nano and you can sync and track your workout data on www.nikeplus.com. iTunes will display your last workout, but it does not store all your workout data on your hard drive.
You need three things to make the whole system work - iPod nano (and only the nano), Nike + iPod Sport Kit and a pair of Nike+ shoes (sort of). Start off by making sure you have the latest iTunes software (at least version 6.0.5) from Apple, downloadable at www.apple.com/itunes. Then you need to make sure your iPod software is updated to version 1.2 or later and attach the iPod receiver to your nano. You're then supposed to place the Nike + iPod sensor into your Nike+ shoe's special insole pocket, only I wasn't about to give up my favorite pair of running shoes so quickly.
Being the "Miss MacGyver" I am, I was determined to make this thing work with my good ol' beloved shoes. I wrapped a whole bunch of velcro, in a crisscrossed shape, around the sensor and then used more velcro to firmly secure it flat to my shoelaces.
Voila! It works!
The sensor itself reads your back-and-forth movement opposed to the up-and-down movement as a pedometer would, so it's fine.
There is no 100 percent guarantee for my method to work, but it was OK for me. I actually really love Nike shoes and used to have them, but my podiatrist says that I can't use those anymore because of the shape of my feet. I unfortunately had four toenails fall off last year from running with my former beloved Nike shoes. Too bad - personally, I don't want to chance it again with the Nike+ shoes, but I'm sure everyone else will be fine. I just have weird-shaped feet.
The nonrechargeable battery on the iPod sensor will last you about 1,000 hours, but if you're not actually running or walking with those shoes, I would remove it from your shoe to conserve the battery. It will warn you when there is approximately two weeks of life remaining. Also, if you know you're not going to use it for awhile (or before boarding an aircraft), you can put the sensor to sleep by pushing the sleep/wake button for three seconds with a paper clip.
Although I had to compromise my Nike + iPod kit, I was more than satisfied with its performance. It's more than a high-tech pedometer. To find one of these of your own, visit the Apple Store at Ala Moana Center or www.apple.com. If you choose the Nike+ shoes, you can pick up a pair for $100 at Niketown or www.nikeplus.com.
Happy running!
Most Recent Comment(s):