Nintendo 3DS Now More Affordable

By
.(JavaScript must be enabled to view this email address)
August 17, 2011
|
Share

Del.icio.us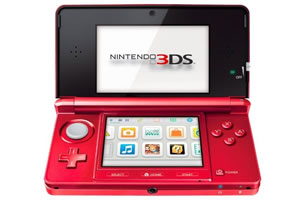 Photo courtesy of SanDisk
If you've been on the fence about purchasing a Nintendo 3DS, as of Aug. 12 the price dropped down to $169.99 (from $249.99). Good opportunity to buy it now, but bad luck if you were one of the 830,000-plus folks who already purchased it at the higher price. On top of that, Nintendo will release a Flame Red color Sept. 9.
"Nintendo 3DS is an amazing piece of technology that offers players incredible 3D games without the need for special glasses," says Laurent Detoc, president, North America, Ubisoft. "Beyond that, it's an affordable dedicated gaming machine.
Simply put, Nintendo 3DS is a fabulous device. Ubisoft has been a big supporter of Nintendo 3DS since the beginning with eight Nintendo 3DS games released to date and another eight games coming out before the end of calendar year 2011."
Nintendo is planning the release of two games this holiday season. Super Mario 3D Land will launch in November, while Mario Kart 7 becomes available in December. Super Mario 3D Land is a new platforming game that takes full advantage of 3D graphics to deliver puzzles, more precise jumping action and a remarkable new visual perspective on the Mushroom Kingdom. The game also marks the return of Mario's fanfavorite Tanooki Suit, which allows him to strike enemies with his tail and slowly descend after jumping.
Mario Kart 7 is a new racing game that includes multiple characters from the Mushroom Kingdom, Kart customization and intense multiplayer action. Players can now race on land, sea and air, sail through the sky with the new hang glider feature and drive underwater in some stages. Both games are completely new and are designed specifically for the Nintendo 3DS system.
In addition to the great games, Nintendo 3DS has a host of features that make it the cheaper, musthave video game system this year. The new Nintendo Video service automatically delivers short 3D videos from the worlds of music, comedy, animation and Hollywood. A free application allows Netflix members with unlimited streaming plans to instantly watch TV episodes and movies.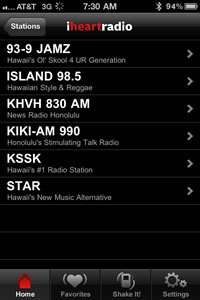 Photo courtesy Clear Channel Management
And, of course, you can access the Nintendo eShop for a wide variety of downloadable content, such as original 3D software, classic games that have been remastered called 3D Classics, Game Boy and Game Boy Color "Virtual Console" games in their original 2D glory, and more than 350 Nintendo DSiWar games. You also can view video game trailers, screenshots and information for games.
The two other colors available are Cosmo Black and Aqua Blue, and if you happen to be going to Japan before Sept. 9, the Flame Red color was released there as Red Flare. The Nintendo 3DS also features parental controls. Visit Nintendo.com/3ds for more information.

Click Chick's Mobile App of the Week: iHeartRadio iHeartRadio is one of my absolute favorite apps! Although it has been around for awhile, I still find that many people have never heard of it, so I just had to write about it. The app delivers more than 750 Clear Channel radio stations from across America, and I think it's better than Pandora since the music will still play in the background while you use other apps on your iPhone. If you launch another app while running Pandora, it will shut off the music and you'll have to start Pandora all over again.
As far as Hawaii radio stations, you can listen to Star 101.9 (my favorite), Island 98.5, KSSK FM 92.3, KHVH 830AM and KIKI-AM 990. You also can bookmark your favorite stations, tag songs for purchase on iTunes and view song lyrics. Download it for free your iPhone/iPod touch, iPad, BlackBerry, Android or Windows Phone 7. Additionally, you can always listen online at iheartradio.com.
Most Recent Comment(s):