Nintendo's 3DS Steals The Show

By
.(JavaScript must be enabled to view this email address)
July 07, 2010
|
Share

Del.icio.us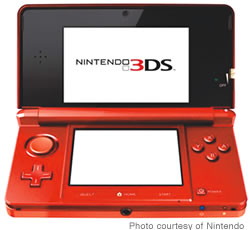 Nintendo's 3DS stole the show at the recent Electronic Entertainment Expo (E3), which I sadly missed this year. The 3DS is the true successor to the Nintendo DS with its ability to display full stereoscopic 3D without the need for special glasses.
"The additional dimension of depth in 3D makes it easier for players to judge distances while giving developers a new tool to create games and experiences that play with both height and depth," says Nintendo video game designer Shigeru Miyamoto, who pioneered the fully rendered 3D video game world with Super Mario 64.
As you probably know, expensive 3D TVs hit the market earlier this year, resulting in the start of the 3D era of home entertainment, especially with gaming possibilities. Sony recently released some 3D PlayStation3 games, but keep in mind you still need that 3D TV and special glasses. Ouch! That's a lot of money you'll have to spend for everything.
At least with the Nintendo 3DS you won't face that dilemma. The bottom screen is a normal 3.02-inch touch panel, and the upper screen is a slightly larger 3.53-inch display. Three cameras (one inner and two outer) deliver the 3D effect and take 3D pictures. Rumor is that Nintendo is working on facial recognition technology to work with the cameras so the games will know who you are when you pick up your 3DS. That would be cool!
The 3DS also has a motion sensor, gyro sensor and a Slide Pad that allows 360-degree analog input. It still has an SD slot, which is helpful to let you expand your memory. Its 800x240-pixel screen is sharp and won't strain your eyes.
A range of games will be available, both classics and newer third-party titles. Here are a few highlights: Mario Kart, ninten-dogs + cats, Paper Mario, Resident Evil Revelations, Ridge Racer, Kingdom Hearts, The Sims 3 and many more.
Nintendo claims the 3DS will be released by March 2011. However, if I had to guess, I'd say it will be out in time for Christmas. So far no price has been announced, but my estimate would be somewhere between $249 and $299. For additional information or pictures, check out http://e3.nintendo.com/3ds.

Click Chick's Mobile App of the Week: Google Goggles
Google Goggles is a visual app that allows you to snap pictures of items such as books, food products, paintings or landmarks and receive Google search results. Similar to the iPhone app RedLaser, you also can snap pictures of barcodes to identify products.
This app is basically object recognition with your phone's camera. I can see this being useful while shopping or traveling (landmark recognition). I took pictures of all types of items from baby food to my TV remote, and the app recognized and performed a Google search on each with no problem.
Google Goggles is a free app exclusively available for the Android operating system, and downloadable at the Android Market. Unfortunately, this one is not available for the iPhone.
Most Recent Comment(s):