Nintendo's Wii Is Finally Here

By
.(JavaScript must be enabled to view this email address)
November 29, 2006
|
Share

Del.icio.us
Last week was big for me - my husband and I celebrated our second wedding anniversary, and I was given a once-in-a-lifetime opportunity to meet the president. I had the huge honor of shaking the hand of Mr. George W. Bush, the president of our wonderful United States of America. Wow. Need I say more?
MidWeek's Publisher Ron Nagasawa said to me, "Geez,Ali, first you meet the president of Sony (SCEA), now you've met the president of the United States. What's next?"
Well, I guess I can't really top meeting two of my heroes within a three-week time period, but something else I can at least add onto my good week was finally receiving my very own Nintendo Wii.
Although I wrote about the Wii earlier this year, shortly after my trip to the Electronic Entertainment Expo (E3), I finally had the opportunity to actually use one, and call it my own. It's a fun console to play with almost no learning curve. As long as you have fairly good hand-eye coordination, anybody can master it. Just point the controller at the TV (making sure the sensor is on top of your TV) and move the cursor around with the simple movements of your hand. It's so easy that I can (almost) guarantee that any nontechie person can figure this thing out.
The Wii is definitely the console to choose for any non-gamer that would like to acquaint themselves with video games, or anybody like myself who wants to play with its cool controller. You can hook up to four remote controllers to one Wii. Using Bluetooth, the controllers'wireless signal can be detected 10 meters away from the console, and each has a power switch, plus pad, A, B, Minus, Home and 1 and 2 buttons. The nunchuk (to go with the controller and used for more complicated moves) includes an analog control stick and C and Z buttons.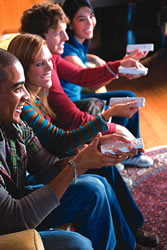 Turning on the Wii, you'll see the Wii Channel Menu, and there you can go to the Disk Channel (to play games from the slot), Mii Channel (create fun caricatured portraits of yourself and members of your family), Photo Channel (take photos off your SD memory card), Forecast Channel (weather), News Channel or the Wii Shop Channel. I logged onto the Wii Shop Channel to see what it was all about, and it turns out you have to use Wii Points to buy any goodies. You can purchase the point cards at the retailer you bought your Wii from, or with a credit card.
The points end up costing you about $1 for 100 points. The Wii's backwards compatibility allows the media bay to play games from the 8-centimeter Nintendo GameCube disks, and of course the current Wii 12-centimeter optical disks. Additionally, ports for classic Nintendo GameCube controllers, two slots for Nintendo GameCube Memory Cards and two USB 2.0 ports are included. Using the Wii's Wi-Fi capability (which instantly found my wireless network when I turned it on), you will have the option of downloading virtual console games that date back to 20 years ago (from the Wii Shop Channel, average 800-1,000 points for each game).
Fan-favorite titles originally released for the Nintendo 64, Super Nintendo Entertainment System (SNES),
Nintendo Entertainment System (NES) and Sega Genesis can once again grace your television screen (i.e. Donkey Kong, Super Mario 64, SimCity or Bomberman).
There are a ton of current Wii titles out or coming out, but available right here and now is the much-awaited The Legend of Zelda: Twilight Princess from Nintendo. Also from Nintendo is the included Wii Sports. Sitting there and playing virtual tennis (using my Mii character) by swinging the controller is very cool and somewhat relaxing. Otherwise, my favorite third party games include Call of Duty 3, Marvel Ultimate Alliance, Prince of Persia or Red Steel, and many, many more are available.
If you're a graphics snob, you will be disappointed with the Wii's look. Don't expect its graphics to wow you. As for its capacity, I was a little let down, but not surprised that the Wii does not have a hard drive. It uses internal flash memory (512 MB) with a bay for an SD memory card. Nintendo made it this way to minimize power consumption and keep the console compact. Unfortunately you will not be able to play your DVDs either. If you don't mind all that, it's worth it just for the wow-factor of the controller. This is what video games should be like in the future, but I think this might be a bit too advanced for what the Wii's little processor can handle. But that's OK, I'm still enjoying it.
Nintendo's Wii hit the market about two weeks ago and sells for $249.99 at your closest GameStop (www.gamestop.com), CompUSA (www.compusa.com) or Sears (www.sears.com). As mentioned in my Christmas list last week, don't fret if you weren't able to buy a Wii yet. Retailers around town (especially GameStop) are scheduled to receive more shipments soon, and definitely will be available for Christmas. Inquire at each individual location for more information. I found the Waikele GameStop to be the most helpful, and have the most items in stock.
Most Recent Comment(s):