Oceanic's Road Runner Mobile

By
.(JavaScript must be enabled to view this email address)
January 20, 2010
|
Share

Del.icio.us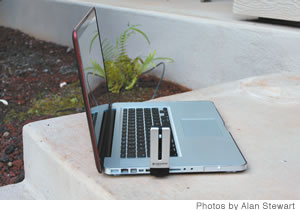 A technology called WiMax (Worldwide Interoperability for Microwave Access) came to Hawaii in December, and brought us 4G mobile broadband service. In conjunction with this innovation, Oceanic Time Warner launched its 4G Road Runner Mobile Service earlier this month (available on Oahu and Maui).
I used the Franklin Wireless CMU-300 modem to connect to Road Runner Mobile network. It's the first USB mobile card that supports both WiMax and 3G (EVDO) mobile networks. It's fairly small - about the size of a wide pack of gum - and has a 64MB storage capacity if you need to throw some files on there. Just to give you an idea on speed, typical high-speed Internet service on your home's network can give you up to 15 megabits (Mbps) for downloads and 1 Mbps for uploads. It varies on which service/plan you subscribe to. Road Runner Mobile's speed averages from 3 to 6 Mbps, depending on your physical location.
"Road Runner Mobile offers customers a superior 4G mobile broadband experience away from their home or office by simply plugging a Road Runner Mobile device into their computers," says Kiman Wong, general manager for Oceanic Time Warner Cable's Road Runner Mobile. "Road Runner Mobile includes all the features as Road Runner High Speed Online, including a full security suite, e-mail, data storage, Photoshow, the Road Runner portal and Road Runner Speed Zones. With Road Runner Mobile, virtually everywhere on Oahu and Maui is your hotspot."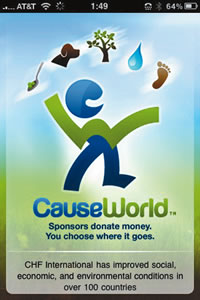 As mentioned above, you receive the same features of Road Runner High Speed with Road Runner Mobile. Additional items include Mobile Manager (track your mobile data usage or add features, etc.), Road Runner Video Channel (watch on-demand videos) and Road Runner Radio (53 stations/12 genres). The security suite includes anti-virus, firewall, anti-spyware, anti-spam parental controls and a security center console.
Road Runner Mobile's pricing ranges from $39.95 (with existing Road Runner service) within Hawaii or $56.95 (with existing Road Runner service) for the national plan.
Unfortunately, at the moment, the service is not available for Macs, but will begin Feb. 1.
For more information or to subscribe to Road Runner Mobile, check out http://rrmobile.oceanic.com or call 643-2337.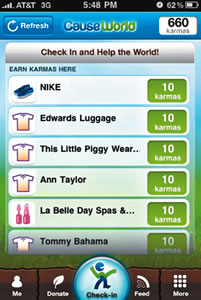 Click Chick's iPhone App of the Week: CauseWorld
CauseWorld is the first app that lets you earn "karma points" and lets you "do good deeds by simply walking into a store." You earn "karma points" when you check in by walking into or coming close to a participating store. These points can then be spent on real world charities that are partnering with CauseWorld: American Red Cross, Feeding America, American Forests, GlobalGiving, DonorsChoose.org, Prevent Child Abuse America, Carbonfund.org, American Humane Association and Room to Read.
Your karma points are funded out of nearly $500,000 provided by Kraft Foods and Citigroup. Additionally, while you're shopping in a participating grocery store, you'll be able to click on recipes from Kraft products. Find CauseWorld for free at the iTunes App Store.
Most Recent Comment(s):