Operation Daddy/Mommy Pillow and phone TV

By
.(JavaScript must be enabled to view this email address)
October 26, 2007
|
Share

Del.icio.us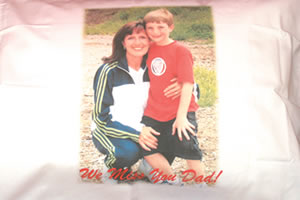 When a loved one is deployed overseas for a long period of time, it can be tough for family members. Since we have such a large military community here in Hawaii, this is unfortunately all too common. To make it a little easier on everyone, last month Mr. Ink Plus and Super Threads partnered to launch Operation Daddy/Mommy Pillow.
As a thank you to our troops and their families for the sacrifices they make, the owners of Mr. Ink Plus and Super Threads are offering this service with the thought of helping keiki who are missing their loved ones. This program works by you providing a photograph of your deployed family member along with a pillowcase. Your picture is then printed onto the pillowcase. The idea is to have the children hug the photo pillow as they sleep to help ease the stress.
The price of the printing is very minimal at only $8 (plus tax) to cover the cost of the ink and labor. Additionally, $1 from each pillow will go to Operation Homefront, a national non-profit group that provides emergency assistance and morale to the troops and the families they leave behind. Here in Hawaii, they offer support to nearly 35,000 troops and 60,000 family members. Check out www.operationhomefront.net for information on the different programs offered. Be sure to click the link for the Hawaii chapter.
In addition, an Operation Family Pillow is available for the deployed family member. On these, you can print family pictures and take it with you while on deployment.
To take advantage of either service, drop off your pillowcases and photos at either Mr. Ink Plus location — Honolulu or Waipahu. You must present a valid military ID card when you place the order, and there is a limit of one Daddy/Mommy Pillow per child and one Family Pillow per deployed family member. Call 526-2465 or 677-7470 if you have any questions or need more information.

Watch TV On Your Cell Phone.
For my birthday recently, I received an iPod Touch, which allows me to watch movies and surf the Internet along with the usual iPod features. The only thing I cannot do is watch live TV. With everything a cell phone can do these days, why not be able to watch live TV too?
That is the idea broadcasters around the country are having lately with the transition of digital TV hopefully complete and just around the corner in 2009. I love the fact that my cell phone, iPod Touch (or whatever it will be called then) and in-car devices will very likely be equipped with a TV tuner!
At the moment you can only receive video services on your cell phone if you're using AT&T, Sprint or Verizon, but it'll cost you up to $25 per month. With the choices available now, you can see a limited amount of TV shows, sports and previously aired network programs. Personally, I enjoy seeing what's on my iPod, especially since there are no commercial interruptions.
If this technology is going to work you'll need a video-equipped chip with a TV tuner. Something like this shouldn't be too expensive, perhaps adding $10 to your device. Most companies have already spent fortunes on installing their broadcasting equipment, but they would just need a beam that could work well on your small cell phone's screen while moving fast in a car, etc.
It'll be awhile, but stay tuned to see what your phone can tune to.
Most Recent Comment(s):