Palm Unveils Its Pre At The CES

By
.(JavaScript must be enabled to view this email address)
January 21, 2009
|
Share

Del.icio.us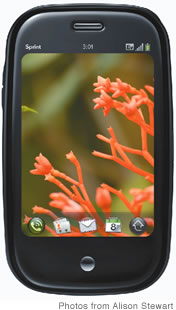 Last week at the Consumer Electronics Show (CES) there was one rock-star phone that stood out above the plethora of same-old phones you see all the time - the Pre. Of all companies, Palm came out of the woodwork and announced its new Pre phone to be available exclusively with Sprint sometime in the first half of this year.
Even though Palm didn't even have a booth at CES, its stock went up since this announcement, and the Pre won CNET's Best in Show Awards. There are buzzings as to whether or not this will be the iPhone killer, but I doubt it.
"Palm products have always been about simplifying lives and delivering great user experiences," says Ed Colligan, Palm president and chief executive officer. "webOS and Pre bring game-changing simplicity to an increasingly mobile world by dissolving the barriers that surround your information. It's technology that seems like it's thinking ahead to bring you what you care about most - your people, your time, and your information - in the easiest and most seamless way."
The Pre is the first of Palm's phones to use this new webOS mobile platform, yet it shows a few iPhone ripoffs - a touchscreen with multi-touch functionality, the pinching to zoom in and out, flicking to your next photo and an online software catalog (trying to copy the App Store). I guess it's not all that surprising since this project was led by Jon Rubinstein, the engineer executive who was instrumental in creating the iPod and iMac line with Apple.
"Pre continues Sprint's leadership in open access to the content customers want for a great web-connected experience," says Dan Hesse, Sprint chief executive officer. "We look forward to bringing this remarkably innovative device to our customers on America's most dependable 3G network."
Some of the other cool features that set the Pre apart from the iPhone include a slide-out thumb keyboard (people sometimes gripe about the iPhone's touchscreen keyboard), wireless charging with the Touchstone charging dock (to be sold separately), Synergy (pulls all your contacts from Outlook, Google/Gmail, Facebook). The Pre will support various Sprint services, including Sprint TV(live and on-demand programming), Sprint Navigation (GPS-enabled audio and visual turn-by-turn driving directions) and Sprint Radio (150+ channels and streaming radio). Some other main but not-shocking features are a 3.1-inch touch screen (320x480 resolution), 8 GB of internal storage, three-megapixel camera, removable battery (you can't remove the iPhone's battery) and the integrated GPS.

As far as the Pre being an "iPhone killer," I think just about every major company that makes a phone has its signature "knock-off iPhone," and for Palm, this is it. This Pre appears to be good phone, but it's difficult to make a judgment call without actually being able to play with it myself. For the diehard Sprint user who does-n't want to switch to AT&T to use an iPhone, this would be something to consider.
The price for the Pre has not been determined, but since it's comparable to other smart phones, it could perhaps cost $200-$400. We shall see when it finally comes out.
Visit www.palm.com/store to learn more or be added to Pre's notification list.
Most Recent Comment(s):