Parental Controls For XBox 360

By
.(JavaScript must be enabled to view this email address)
January 24, 2007
|
Share

Del.icio.us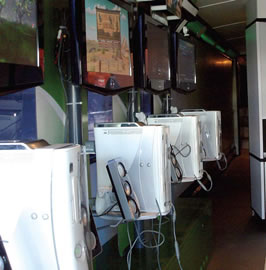 Perhaps you just purchased an Xbox 360 for yourself and your family for Christmas, or maybe you've had one for awhile. You may not know it (there are surprisingly many people I know personally who are not aware of this), but there are parental controls you can use to protect your keiki so they're not viewing or playing with anything inappropriate for their age level on Microsoft's Xbox 360.
Xbox 360's Family Settings is a password-protected feature that lets you as a parent (or care-giver) control the access your keiki have to games, movies and television content based on the industry ratings, and who they interact with online. It's one of the first things you should see when you power-up your Xbox 360. The instructions for the Family Settings are clear and simple to follow.
To help promote all this, Microsoft Corp., Boys & Girls Clubs of America and Best Buy Co. Inc. launched a joint effort to provide parents with the information and tools they need to make appropriate content choices for their family. This program, "Safety is no game. Is your family set?" offers you tips, guidelines and hands-on training for keeping play within appropriate boundaries on the Xbox 360 built-in parental controls features (Family Settings), as well as in the new Windows Vista operating system. The Entertainment Software Rating Board (ESRB) is being highlighted throughout this campaign.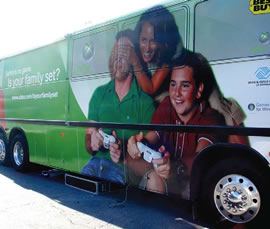 A 20-city bus tour began in October (unfortunately Hawaii is not included) to spread this valuable information to parents across the country. I saw this bus while attending the Consumer Electronics Show in Las Vegas, and here are other cities you might be able to catch it in, if you'll be traveling to the Mainland soon: Austin, Chicago, Dallas, Denver, Detroit, Indianapolis, Los Angeles, Minneapolis, Philadelphia, Phoenix, Salt Lake City, San Francisco, Seattle and Washington, D.C. These tour stops will demonstrate the parental controls on both the Xbox 360 and Windows Vista.
Chances are most of you probably will not be in one of those cities when the bus stops by, but just know that your Xbox 360 can be password protected with the Family Settings password. This is applicable for both the video games and movies, but remember to use a word/phrase that is easy to remember for you, but difficult for others to guess. Change your password regularly for additional safety measures.
Remember that it is important to sit down and talk to your keiki about their video game/movie usage. You should probably spend time with them to watch them play or just pick up that controller and join in the fun with them. Learning the video game jargon will help you understand the gaming world and what your child is facing online. You should also understand the ESRB rating system to help you determine which games are or are not appropriate for them. I wrote a story on that awhile ago, but just in case you didn't see it or don't remember, you can reference MidWeek's online archive, my website listed below or www.esrb.org.
To see more information regarding Xbox 360's Family Settings, general video game safety or complete details on the Microsoft's bus tour, check out www.xbox.com/isyourfamilyset. There you'll find detailed instructions on how to configure Family Settings for online friends, communications, gamer profile viewing, gamer profile sharing, online status, online games and member content. Another useful website you can reference is www.staysafe.org.
Most Recent Comment(s):