Pimp Yo' Pod — iPod, That Is

By
.(JavaScript must be enabled to view this email address)
April 16, 2005
|
Share

Del.icio.us
If you think your iPod
is just a straight mp3 music player, think again. That little pod of yours can do so much more than just pump music through headphones. I've listened to it in my car using an FM frequency, recorded story interviews and blasted tunes on Bose speakers
.
Also, here's an incentive for me to buy a new car — you can directly hook your iPod
up to a BMW, Mercedes- Benz, Volvo, Mini Cooper, Nissan, Alfa Romeo or Ferrari. With about 22 million adult Americans owning an iPod
(according to a Pew Internet & American Life survey), these car manufacturers have added this very cool and convenient feature to their vehicles.
The Griffin iTrip
FM Transmitter (for ipods
with a Dock Connector) is a very simple way to listen to your music on the go with a radio. You just plug it into your iPod
and tune the radio station to your programmed iTrip station. The sound is fairly clean as long as you pick a frequency that's not close to a radio station. No batteries are required as it draws power from the iPod
. The same goes for the iTrip mini for iPod
mini. Unfortunately, nothing is available yet for the ipod shuffle
. Prices are $34.95 for the iTrip and $39.95 for the iTrip
mini.
Use the Griffin iTrip
voice recorder, and it turns your iPod
into a high capacity digital voice recorder with thousands of hours of recording time. This is perfect for students who want to record classroom lectures or people who need to make lots of verbal notes to themselves. I use it to record my story interviews and it's great. The Griffin iTrip
can play the recordings either through an integrated speaker or headphones. You can also use iTalk's speaker to listen to your music. The recording range is up to 100 feet away. This sells for $39.95 for iPod models with the dock connector (not available for ipod mini
or shuffle
).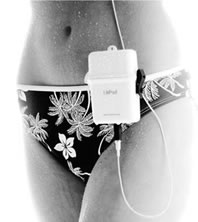 Take your iPod to the pool or beach
using the LiliPod or LiliMini
Do you like to swim? Take your iPod
to the pool or beach next time using the LiliPod
or LiliMini
. No kidding! All you need is a set of waterproof headphones, and lock it into the LiliPod
, and you're set to go. The LiliPod
is shock resistant and watertight with its specially engineered hard shell casing. This is also perfect for outdoor activities in the rain or if you happen to be snowboarding or skiing, to protect your pod from that fresh powder flying into it. The LiliPod is $39.99 and the LiliMini
is $34.99 (not available for iPod shuffle) on www.lilipods.com.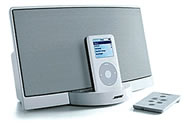 Fill your home with sound and charge your
iPod
on the
Bose SoundDock
If you're hanging out at home, you can use the Bose SoundDock
Digital Music System to fill your home with a rich sound. This will work with all iPod
s except the shuffle and will also charge your iPod while it's docked. Another cheaper speaker alternative is the JBL On Stage iPod Speakers, but it doesn't sound as good. As with the Bose SoundDock
, it charges your iPod
while it plays and is compatible with all iPod
s except the shuffle. The Bose SoundDock is $299 and the JBL On Stage is $159.
There are so many more to mention, but these are the ones that stick out in my mind. All items (with the exception of the LiliPod) are available at www.apple.com. Go there if you also wish to see what other iPod
additions are available.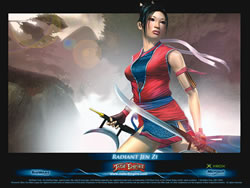 Jade Empire
, The Most Anticipated Game of 2005
I'm always looking for a good game to add to my collection, and this one may be one of the best for 2005. Jade Empire
, recently released by Bioware for the Xbox, is a part of a different game genre.
It is a "true action" roleplaying game based on a combination of classic Wuxia Pien storytelling) and kung fu films and Chinese mythology, moving away from the classic turn-based" game type. Kung Fu fans will appreciate the deadly groups of assassins, rival schools, hidden identities and the comical side characters, which somewhat mirrors Jackie Chan's early works and the Wu Tang series. There is even a brawl in a teahouse where tables and meat carts can be smashed and used as weapons.
The game begins with a selection screen that lets you choose from six main characters (three men and three women with different strengths in magic, physical ability and speed). You master fighting styles and mystical powers as you go along and train under your master's watchful eye. When you eventually become more powerful, you recruit followers and agents, and send them on missions across the Jade Empire
. You cannot become a leader without followers to lead. The decisions you make determine the rewards you receive and who shares in the glory. Along the way you also have to battle with fierce monsters to gain your strength and power.
To view a variety of screenshots and video clips of the game, go to www.jadeempire.com. Retail price is 49.95.
.(JavaScript must be enabled to view this email address)
www.click-chick.com
Most Recent Comment(s):
Commenting is not available in this weblog entry.