Playing It Cool With Lapinator

By
.(JavaScript must be enabled to view this email address)
August 25, 2006
|
Share

Del.icio.us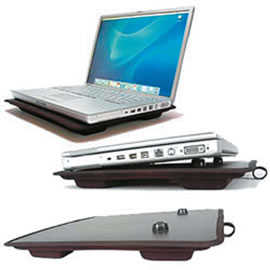 I do the majority of my writing with my trusty laptop computer, and I use it anywhere and everywhere, except for my desk. My lap is my laptop's desk, and I always need to have some sort of padding (such as a towel or folded T-shirt) so I don't burn my legs. I can usually still feel the heat through padding, and after awhile it becomes increasingly uncomfortable, especially after I start sweating in our humid heat.
I never actively sought out a solution to the laptop heat issue, but last week as I was surfing the Internet I just happened to come across this thing called the Lapinator. It's been on the market for awhile, but no one I've talked to has heard about it yet, so I thought I'd share it with you avid laptop users anyway. The Lapinator is a platform for your laptop computer that you place on your lap while you use it. It provides stability, and a solution to the heat. I'm using the Lapinator as I'm writing this story, and although I feel a small amount of heat coming off it right now, it's nothing compared to the regular padding I usually use.
The Lapinator sits about an inch off your lap, so you don't feel the heat of the Sahara Desert on your legs. The top part is made out of a sturdy non-slip polypropylene material, and you have the option of attaching self-adhesive bumpers that lift your laptop up to allow more airflow. The bottom is made out of the durable yet comfortable 3M Thinsulate material, which also fully covers the two elevation pads. Should you have your laptop plugged into anything, there is a piece of One-Wrap Velcro attached that will securely hold all your cords together.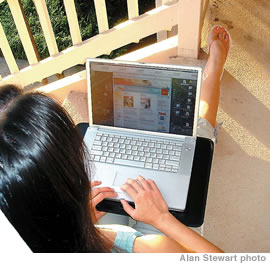 After doing a temperature comparison, I can say that the Lapinator truly works. I used the Temperature Monitor 3.7 software to measure various internal components of my computer, but I paid special attention to the power supply and the processor's temperatures. Upon opening my laptop (I usually keep it on, but closed and in sleep mode), it measured in at about 110 degrees F. After using it for about an hour with nothing on my lap, the processor peaked at 135 degrees F and the power supply at 133 degrees F. I waited a couple hours for it to cool off and opened it again. It started out the same at 110 degrees F, then after an hour of using the Lapinator, the peak temperatures came in at 126 degrees F for the processor and 125 degrees F for the power supply. Not bad at all.
The standard Lapinator is 12-by-13-by1-inches and weighs 11 ounces, so if you have a decent-sized laptop bag, it will fit right in there. The Lapinator Plus is slightly bigger, weighing in at 15 ounces, and has dimensions of18-by-12-by-1 inches. This is better for the 17-inch notebooks such as mine, but it may not fit in your laptop bag. If you use a mouse with your laptop, there is also a Mousitizer attachment with which you can use your full-sized mouse.
The Lapinator is $24.95 and the Lapinator Plus is $29.95 at www.lapinator.com. You can also find the Mousitizer there for $9.99. Also keep in mind for your workplace logo items, you can special order Lapinators imprinted with your company's logo.
Most Recent Comment(s):