Playing NCAA Football 08 as the home team

By
.(JavaScript must be enabled to view this email address)
July 27, 2007
|
Share

Del.icio.us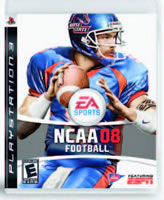 EA Sports' NCAA Football 08 just hit the shelves a couple weeks ago and was all the talk for the guys in my office right before it released. It was entertaining listening to them talk to each other about it as a bunch of kids would about a new toy (which I guess is essentially what it was).
All that talk made me want to review the game. I admit that I've never tried an NCAA title, nor do I know much about football, but I've played (and enjoy) the Madden Football series (which you'll see in about a month from now - Madden 08).
Being the huge football fan that he is, my husband pointed out to me that former Boise State quarterback Jared Zabransky is on the game's cover. This is a huge plus for the Western Athletic Conference (WAC), and excellent for UH since it is part of the WAC.
You can play NCAA Football 08 in four different platforms: PlayStation 2 (PS2), PlayStation 3 (PS3), Xbox and Xbox 360. As a PS3 gal, that's the console I chose to play this game with. Also as an alumni of University of Hawaii (and a UH football season ticket holder), I decided to play as my home team, the UH Warriors.
The very first thing we noticed about the game is that the weather is exactly the same as what it truly is outside in the area stadium you're playing in. During the first game we played it was nighttime and pouring outside in real life. It also was dark and raining at Aloha Stadium on the PS3. The game apparently receives a feed from The Weather Channel (as long as you're online and connected to the EA servers) and integrates the actual weather of your home stadium into the environment of your gameplay.
For each of your games, you're allowed to save up to five instant replay videos and 10 still photos so you can go back and relive your glorious moments on the field. Use these same video clips and pictures and share them online with your friends as instant classics (on www.easportsworld.com). In fact, the screenshot I downloaded for this story was from a user named Calch, so thank you very much, whoever you are!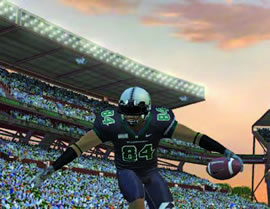 Aloha Stadium screen shot photo by User Calch (Xbox 360)
A nice touch is that you can hear your team's song play. So as we played with Aloha Stadium in the background (most of the time), we heard the UH Fight Song that the band plays. It almost makes you feel as if you're in Aloha Stadium watching a game.
Other additions to the game include All-New Leadership Control (lead by example and control action on the field), Enhanced Recruiting (use Dynasty Mode's all-new search tool to hone in on incoming players with specific attributes) and the All-New Campus Legend Mode (attend practice, learn playbook and earn reps as a college freshman). I didn't see it available for the UH team, but the Statue of Liberty Advantage play is an option for some teams.
As someone who has been playing NCAA Football for years, my friend Clarence Williams, who bought both PS3 and PS2 versions, says,"I was disappointed in how slow the PS2 version is in comparison to the PS3 version. They really took the college feel out of the game on the PS3 version - no stadium pulse, no sack avoidance, slower gameplay, and online play is lacking when I'm trying to kick, etc. But despite that, I still enjoy playing it on both systems."
The bottom line is if you love football, you'll love NCAA Football 08. This was my husband's first time playing an NCAA Football title, and he had no complaints. He only said that it's definitely good fun. Heck, I know that's true because I couldn't pry him away from it for the entire weekend!
NCAA Football 08 is rated E for Everyone and will cost you $59.99 for the PS3 or Xbox 360 versions ($49.99 for Xbox, $39.99 for PS2) at your nearest GameStop (www.gamestop.com), CompUSA (www.compusa.com) or Best Buy (www.bestbuy.com).
Most Recent Comment(s):