Practicing safe social networking online

By
.(JavaScript must be enabled to view this email address)
November 14, 2008
|
Share

Del.icio.us
With social networking becoming more and more popular, and all the online predators on the prowl, we need to be careful of how information about ourselves we reveal.
Just in case you don't know what social networking is, I'm talking about websites (i.e. MySpace, Facebook, LinkedIn, Twitter or Bebo) that let you communicate with family, friends and strangers, and build networks of friends linked by common interests, etc.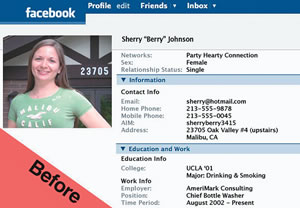 These websites tend to be most popular among the younger crowd and is door for exposure to cyber-stalking, private information disclosure or access to age-inappropriate content.
The more information that is shared online, the more vulnerable our keiki are.
It's vital to speak with them how about the basic information needs to be protected.
"Parents can't afford to be in the dark about their children's online activity, or about the safety risks associated with social networking sites," said Beth Jordan, West Region program director for Microsoft.
"If you're a parent, take the time and educate yourself on guidelines for safe computing and candidly talk with your children about their online activity."
Note these interesting statistics Jordan provided me with regarding teenagers:
Fifty-five percent have an online profile.
Of those with online profiles: More than eight in 10 include their first names.
Seventy-nine percent have photos of themselves.
Sixty-one percent reveal their hometowns.
Sixty-six percent have photos of friends.
Thirty-two percent of online teens, and 43 percent that participate in social networking have been contacted online by complete strangers.
Seventeen percent of online teens and 31 percent of social networkers have "friends" on their social network (i.e.
MySpace, Facebook) profile who they have never personally met.
Given the stats above, it's probably a good idea to not publish any identifying information about yourself, particularly your

address, date of birth, address, pictures of your house or your phone number.
Just because other people may have that info published, it doesn't mean you have to.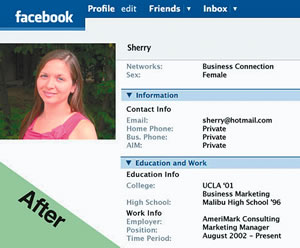 It's probably best if you choose a user name that does not include your name, and pick a strong password that has a combination of upper and lower case letters, numbers and keyboard symbols.
It may also be a good idea to setup a separate e-mail account (without your name) to use for your registration setup - this way if you need to shut down your account, it can easily be done with this alternate e-mail account without compromising your other information. It's best to use a free service such as Hotmail, Yahoo! or Gmail.
A good thing to remember is that whatever you put online will stay online. So you may not want to publish any embarrassing pictures of yourself, and not use vulgar language. It's a good idea to learn how to use the site(s) you're on.
Most of these websites have included privacy features to restrict access to your profile if they're not your "friend," and be cautious as to who you let join your network.
The bottom line is that no matter what your age, social networking is fun and can be a great tool to stay in touch with your friends, but could also be dangerous if you're not careful. Just be cautious about how you setup your account, etc.
For some good tips and resources, check out http://safety.msn.com or http://safesocialnetworking.com.
Most Recent Comment(s):