Predicting Airfare Prices Online

By
.(JavaScript must be enabled to view this email address)
November 15, 2006
|
Share

Del.icio.us

While surfing the Web last week, I discovered an interesting website that I think many of you will find quite useful. It's been out there for a few months already, but Farecast is the first and only airfare prediction website. Popular Science magazine named it one of the top 100 tech innovations in its annual "Best of What's New" for 2006.
Farecast is still in a beta (developmental) version, but is still quite effective. It helps us online travel shoppers save money by answering the burning question: "Should I buy now or wait?" It offers airfare predictions from more than 75 U.S. departure cities to top domestic destinations.
This website is different from other online travel agencies such as Expedia, Orbitz or Travelocity. Instead of actually offering you a low price to buy from the site directly, it tells you where to go for the lowest fares. You buy directly from the airline or agency's site, so you'll still receive your miles, will not have to pay booking fees, and have peace of mind that you're paying the lowest fares.
The Fare Prediction indications show if the lowest fare is rising, dropping or staying the same over the next seven days for your specified search. Each prediction includes an easy-to-see arrow (indicates which way the fare is going), confidence level (percentage based on travel record), average fare change (amount reflecting average fare change recorded when similar predictions were correct for market) and the buying tip (recommendation based on the prediction information - buy now or wait).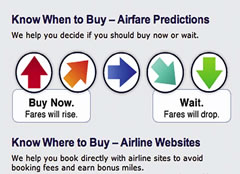 Fare History shows you a very easy-to-read chart that indicates fares from up to 90 days ago. You can easily see the lowest fare available. The Flights and Fares list pops up after you type in your search. This list will show you the fare prices (cheapest to most expensive, or however you sort it), the airline/agency offering it, and the details of the flight. You can conduct your searches with a quick search (fixed dates), or if you have some time to play with, you can do a flexible search, which gives you a 30-day range. The flexible search may be better if you have time on your side. That way you can see all your options.
Farecast originally evolved from a University of Washington research project, led by computer science professor (and Internet search expert) Oren Etzioni.
Several years were spent developing state-of-the-art data mining and predictive technologies with the objective of accurately predicting airfare pricing.
The utilized data mining algorithms search for patterns in the accumulated airfare data, which are associated with significant price changes. These patterns are represented and stored in the models that are built from the data collected daily.
Additionally, Time magazine named Farecast one of its "50 Coolest Websites" in the Travel & Real Estate category. It also won Frommer's Editorial Choice award, Business Week's "2006 Best of the Web" and Kiplinger's Personal Finance "Top 25 Best Travel Sites."
I hope Farecast will save you some money with future travel plans - www.farecast.com.
Most Recent Comment(s):