Previewing Sony's Walkman Z-Series

By
.(JavaScript must be enabled to view this email address)
September 21, 2011
|
Share

Del.icio.us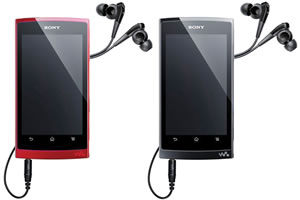 Photo courtesy Sony Ericsson
I'm sitting here in Tokyo waiting for the Tokyo Game Show 2011 (TGS 2011) to kick off. And, no, that's not some wacky Japanese TV game show, it's a video game exhibition for the next generation of titles. You'll be hearing about this next week and in future columns.
Anyway, while I'm here, coincidentally Sony announced its Walkman Z-Series of personal media players (PMP), which is the next step up from the Walkman W8 Android device. The W8 was a disappointment, but hopefully the Z-Series will erase that from our memories and be a big hit for Sony.
The Z-Series runs Android 2.3 Gingerbread with an NVIDIA Tegra 2 processor and 512MB of RAM. It has the usual WiFi, Bluetooth, GPS and Gyroscope capabilities, along with an HDMI port.
Other features include the "SMaster MX" digital amplifier, digital noise cancelling, Digital Sound Enhancement Engine (DSEE enhances the sound of compressed music files), Clear Stereo, Clear base, 5-band equalizer, 5-speed VPT Acoustic Engine, Dynamic Normalizer and xLOUD. It also sports a large 4.3-inch WVGA 480x800 screen with approximately 20 hours of battery life while you're doing music playback.
A key Walkman feature is the W. Button. Here you can do intuitive music playback anytime with the touch of a single button. You can view album art, choose random playlists or listen to your music in categories (i.e., Upbeat, Relax, Mellow, Dance Floor, etc.). While the music is playing, the Visualizer lets you view various images (i.e., shapes, etc.), depending on the beat of the song.
The Z-Series will come in black or red, and 16GB, 32GB or 64GB storage capacities. Additionally, a variety of accessories will be available separately. The release date is slated for Dec. 10 in Japan, but it hasn't been announced when it will be available in the U.S. Prices range from $360 to $560.

Click Chick's Mobile App of the Week: ADP Mobile Solutions
For you smallto medium-sized business owners/managers, ADP, a provider of human resource outsourcing, payroll services and benefits administration, recently introduced its ADP Mobile Solutions app. The app is a free, easy-to-use solution that gives your employees access to their vital HR, payroll and benefits information via a mobile device.
"The ADP Mobile Solutions app is the most comprehensive and compelling mobile HR solution available to organizations seeking to provide their mobile work force with access to the tools and information they need to be more productive, wherever they are," says Mike Capone, chief information officer, ADP.
You are able to view recent pay statements (up to five previous pay periods), access corporate directories, company news, manage time and attendance remotely and review ADP Retirement Savings information. These are resources previously available only to big players, and this app is much more accessible and affordable to help boost Hawaii's businesses.
If your company uses ADP for its solution, the app is available for the iPhone/iPad/iPod touch, Android and Blackberry operating systems. Visit adp.com/mobilesolutions for more information about the app.
Most Recent Comment(s):