Printing Custom Party Balloons

By
.(JavaScript must be enabled to view this email address)
September 27, 2006
|
Share

Del.icio.us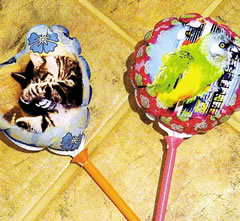 Last week we celebrated my mom's 70th birthday. She didn't want to have a party originally, but we decided to just go ahead and plan it as a surprise anyway.
If you know my mom, you know how extremely difficult it is to surprise her. We fooled her, since she succumbed to the Chinese-Pahke weakness: We told her we had a gift certificate that was going to expire. My brother was able to get her to the restaurant, and much to every-one's amazement, we actually pulled it off successfully!
What does this have to do with anything? Well, three days before the party, Terrence Iwamoto from Mr. Ink Plus happened to call me to share that he just received a great product for me to write about - the Picture Me! Personalized Balloons.
These balloons are completely customizable on your computer using Photoshop, and printable on your inkjet printer.
My perfect test for these balloons was my mom's party. We brought along a laptop, our inkjet printer a camera, and took pictures of all the guests and sent everyone home with a printed balloon of themselves.
The balloons are about seven inches across un-inflated, and five inches when inflated. They're made out of Mylar and coated with a white printable surface. You can choose to print on both sides, but it still looks good with the printing on one side. At the party, we only printed on one side to save time.
As time-consuming as it was to print everything on-demand, it was a big hit at the party and a very unique novelty favor.
You have to manipulate your pictures (with the borders) in Photoshop, so make sure you have that software on your computer first before you consider purchasing
these balloons. Each balloon comes with a foot-long straw and an inflating tube that attaches to the straw. We discovered the balloons are extremely fragile when you're tearing them out from the template; make sure you're tearing them against a flat, firm surface. Also, before you try to insert the inflation tube, make sure to cut a sliver off the very bottom of the balloon. Then you can slip it in and inflate the balloon, put it in the straw, and you're all set to go.
After going through all that, I would highly recommend that you have a small team of people to help with the assembly of the balloons. My poor husband served as the balloon-printing slave, and my good friend and fellow MidWeek columnist/website editor Linda Dela Cruz helped me take the pictures. Thank God for them - I could not have done it without their help!
Add some excitement to your next event, the Picture Me! Personalized Balloons can be found exclusively at Mr. Ink Plus (located behind CompUSA on Ala Moana Boulevard: 526-2465). Prices range depending on the quantity you purchase 1-99 balloons at $3.50 each; 100 -199 at $3.40 each; 200-399 at $3.30 each; 400 and more at $3.20 each. Additionally, the CD with instructions and 91 different borders is $19.95.
Most Recent Comment(s):