Pros, Cons Of The First 4G Phone

By
.(JavaScript must be enabled to view this email address)
June 30, 2010
|
Share

Del.icio.us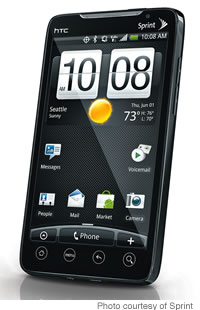 The world's first 4G phone is here! Sprint recently released its Android phone, the HTC EVO 4G. This is the first 4G phone in America, meaning you'll be able to surf the Internet and check your e-mail faster while you're on the go. Right out of the box, this phone reminded me of Verizon's DROID with its huge (4.3-inch) eye-catching, crisp display and responsive touchscreen.
The 480x800-pixeled screen isn't the only thing that's huge. The phone itself is big, clunky and not easy to fit into your pocket or a small purse. Yet you can't have a big, beautiful screen without a large phone, so it's a small compromise. The 8-megapixel camera helps enhance the screen experience with the sharp pictures/video it takes.
Using the EVO 4G as a mobile Wi-Fi hotspot is a nice feature, but I wasn't able to make it work on my test phone. You can turn your phone into a Wi-Fi hotspot for up to eight devices (for an extra $30 per month).
Another nice feature is the kick-stand on the back. This is helpful to prop up your phone on the dashboard while using the included free Sprint Navigation app. Sprint Navigation is similar to using a regular car GPS, and it gives you audible turn-by-turn directions.
You're probably familiar with the issues involving the iPhone's lack of Flash video support - you won't see that with the EVO 4G. You can view selected Flash videos with Flash Lite, which simply means you can watch some things, but not others.
Unfortunately, TV shows from Hulu.com and news from CNN.com don't work.
The bottom line: This is the phone to have if you're a Sprint person. But there are a couple of drawbacks I need to point out: poor battery life and lack of 4G service. I had to recharge the phone often after just a few calls combined with some e-mail and GPS usage. Not a biggie if you're near a power source, but while on the road it can be a hassle.
Also, the majority of time I had the phone it was on 3G, even after restarting it. The entire time I had the phone I only saw it switch to 4G twice, yet I'm fairly confident this issue will be resolved in time with future infrastructure build-ups.
Despite those issues, I still think the HTC EVO 4G is a good phone. You can purchase it for $199.99 (with a two-year contract) at your nearest Sprint Store, Best Buy, RadioShack or online at sprint.com. Your minimum monthly fee will average about $80.

Click Chick's Mobile App of the Week: Bank of Hawaii Mobile Banking
We're starting to see more and more local-grown mobile apps come up, the latest being Bank of Hawaii's first iPhone app that allows customers to conveniently check account balances, view recent transactions, transfer money between accounts and make online payments.
Since I don't have an account with Bank of Hawaii, I can't fully delve into 100 percent of the app's functionality, but I can see this being a useful tool if you're a Bankoh customer.
But this free app is worth downloading even if you're not a Bank of Hawaii customer since you can find the nearest ATM or branch (including hours of operation) based on your current location. The app is only available for the iPhone/iPod touch/iPad (iTunes App Store), and there are no current plans to develop it for other mobile application platforms.
Most Recent Comment(s):