Protecting laptops is in the bag with KINETIK

By
.(JavaScript must be enabled to view this email address)
November 23, 2007
|
Share

Del.icio.us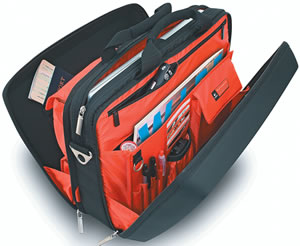 Along with a good portion of the rest of the modern world, I keep my whole life of data in my laptop.Yes, I keep a backup of my hard drive, but if anything happened to it I would still be heartbroken.
I learned the hard way that it is important to have a good bag to protect your computer. A friend of mine gave me a brand knock-off laptop bag from overseas. It was a nice-looking briefcase, but it apparently had no protection.
I remember the day as if it was yesterday ... after using the bag for only a couple of months, when I got out of my car one morning the handle snapped off, the laptop slid out of the bag, and I saw pieces of the computer flying all over the parking garage. It was so traumatic, and it all seemed to happen in slow motion. Thank God the hard drive was still functional, but I had to plug it into a monitor to see and siphon off all the data, since the screen was unreadable from the massive crack. Never again.
Here I am years later and, until now, I never found a good, eye-appealing, protective, yet practical bag that actually does its job. I'm satisfied now that Logitech launched its new line of premium notebook bags, KINETIK. There are two you can choose from. For a more professional look, the KINETIK 15.4 Briefcase, or for a sportier design, the KINETIK 15.4 Backpack.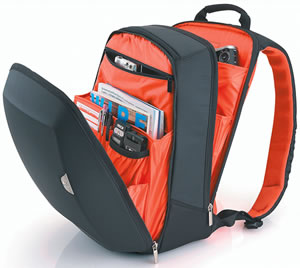 The Briefcase has a modern, sophisticated, Batman-ish style with its lightweight matte exo-shell casing and padded notebook sleeve. There are three compartments lined with orange-red nylon, with ample room for your power cord, mouse and other accessories, and the middle portion is meant for your precious laptop. The back panel is cushioned, and it's so sturdy that it makes your Briefcase a free-standing rock. It took me a few moments to figure out what it is, but there's a trolley sleeve on there too. This is perfect while you're traveling, since you can slip this sleeve right over the bars on your luggage. I find this much more convenient than trying to fiddle with a strap, hoping it doesn't fall off your baggage.
The Briefcase fits most 15.4-inch notebooks, hence it's name, or a 17-inch MacBook Pro.
Having similar features to the Briefcase, the Backpack is probably more catered to students. The back portion is heavily padded, and provides extra support with sturdy straps and room for books in addition to your computer, iPod and other accessories. Not that I would actually try it, but I have confidence that I can take a KINETIK case and throw it 10 feet and nothing will break. Not only that, but they are both sleek, yet not overly heavy. Most importantly, I know that the handles or straps will not break off to kill another one of my innocent computers.
To purchase a KINETIK of your own or for more information, log onto www.logitech.com. Both the Briefcase and Backpack go for $99.99, and are available at www.amazon.com, www.pcmall.com or www.cdw.com.
Most Recent Comment(s):