Putting The iPad Through Its Paces

By
.(JavaScript must be enabled to view this email address)
April 14, 2010
|
Share

Del.icio.us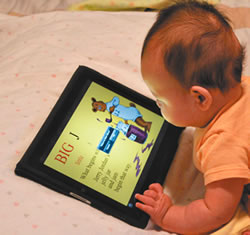 The author's daughter and her iPad
Even though I reserved my iPad online, I opted to pick it up at the Apple Store to ensure I had it in-hand on the release date. I didn't go crazy and line up at four o'clock in the morning as I did for the iPhone's release. This time I took it easy, slept in and went to the Apple Store at 10 a.m. to pick up my iPad. Oh, and by the way, over 300,000 iPads were sold on day one.
The Apple Store at Ala Moana has my applause. They were extremely efficient and friendly, and the line moved so fast that I was in and out in less than 10 minutes. The Apple Store staff even handed out bottles of water and provided umbrellas for the rain coming down. Also, I was caught by the a local TV news camera crew during my very short wait.
I love my iPad, but I have to say there are generally two groups of iPad people out there - the lovers and the haters. As you can probably guess, I'm with the lovers, so I'll start off with the positives. Apple had the decency to give the iPad a really fast processor so everything responds and opens/loads very quickly. Surfing the Internet is day and night from doing it on a little iPhone, mostly because you don't have to keep zooming and panning to see everything. The battery life is phenomenal. From the moment I freed my iPad out of the box I was able to use it for two days without having to re-charge it. Most of the existing iPhone apps work on the iPad.
And it's not just an e-reader, and it soars way above a Kindle or a nook, so don't even try to compare them. Yet, it's not a laptop either. It's more a great tool to view your books, music, videos, photos, e-mail and surf the web.
Most of the people I work with are on the hater end, so I've heard just about all criticism humanly possible about the iPad. Yes, there are some drawbacks. The one that irks me the most is that you need to constantly wipe off your fingerprints. There is no USB support, no Flash video support, and you can't work on your Google word docs. Also, it doesn't come with a case, and the one that Apple sells is flimsy at best.
The bottom line is my daughter likes "her" iPad and reading all her Dr. Seuss books off it, so that makes it all worth it. Right now just the Wi-Fi version ($499-$699/16-64GB) is available, but soon the 3G version ($629-$829 16-64GB) will be out too. If you want to buy the Wi-Fi model, so far both Apple Stores seem to have a good stock of them, or visit http://www.apple.com to purchase online.

Click Chick's iPhone App of the Week: What Chefs Eat
Do you ever wonder what Hawaii's top chefs eat when they're not cooking for other people? The What Chefs Eat iPhone app gives you their favorite spots, including late-night eats and favorite ramen shops. The app includes Hawaii's top chefs. The idea for this came from co-founder Melanie Kosaka and master sommelier Chuck Furuya. It was developed as an iPhone app by Eric Nakagawa of ICanHasCheezeburger.com.
"Breaking down the digital divide between larger businesses that have the resources to expend on Web sites and mobile marketing and small businesses that may barely have the resources to develop a Web site was a key factor in deciding to do this project," Kosaka says. "We think What Chefs Eat is a winwin: chefs gain exposure for their restaurants by making recommendations, and smaller restaurants gain notoriety by having a top chef select them as a favorite dining spot."
Download the What Chefs Eat app for free at the iTunes App Store.
Most Recent Comment(s):