Putting Your Photos On Stuff

By
.(JavaScript must be enabled to view this email address)
January 05, 2007
|
Share

Del.icio.us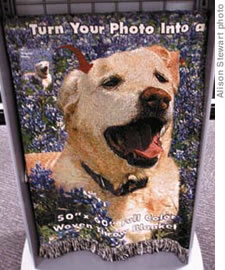 So now you have a bunch of new pictures from the holidays that you want to put up around the house. What to do now? There are so many options out there, from printing them out on paper as usual, to making them into almost anything - T-shirts, mugs, calendars. But what about a blanket? Considering it has been a bit chilly lately, at least by our Hawaii standards, imagine yourself bundled up with your favorite pet, keiki, grandkeiki or even movie star.
I thought of this as I was walking through Best Buy and saw a cute throw blanket hanging on the shelf. Turns out it was a custom-made blanket depicting a dog. I'm fond of throw blankets since they're light, look nice and are perfect on a chilly night for watching TV on the couch. Making one with your favorite picture just adds to the allure. There are several options for doing this, but the company that makes the one I saw is myPhotoArt (www.myphotoart.com).
Skilled weavers transform your favorite photo into a woven (not printed) masterpiece. Each photo blanket measures 50-by-60 inches and is 100 percent cotton that can be machine-washed and dried. This creates a unique and functional treat for yourself or a loved one.
Other products offered by myPhotoArt include various canvas artwork (sizes range from 8-by-10 to 24-by-36), tapestry wall hangings (26-by-36), pillows (18-by-18) or tote bags (18-by-18). The canvas option will make your picture look like an original oil painting. The museum quality canvas is hand-painted with archival inks that will not scratch or fade. You'll have different frames to choose from, and make sure you leave at least a half-inch border separating the subject from the edge of the picture - this is necessary to prevent your image from being wrapped around the side of the canvas.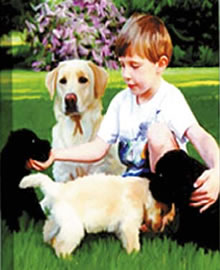 As is the throw blanket, the tapestry wall hangings are woven, and also fully lined on the back with a red pocket. It comes with a decorative metal rod with all the hardware necessary to hang it on the wall. If you order the pillow or tote bag option, it comes with either two woven pillows or two woven tote bags. Each features your photo on the front and back, and the tote is completely lined.
When I went to the myPhotoArt website, all the information on the products was there, but unfortunately you can't order the products from the site. Best Buy offers the 11-by-14 ($100) and 16-by-20 ($120) canvas, and the throw blanket ($125), through a gift box, which contains instructions on how to upload your pictures, etc. It takes six weeks to arrive. For the other items mentioned above, you have to inquire on the website.
Here are other sites that offer similar services:
TreasureKnit (www.treasureknit.com)
Keepsakes Etc (www.keep-sakes-etc.com)
Blanket Worx (www.blanketworx.com)
Photo Blanket Gifts (www.photoblanketgifts.com)
Gifts Four Seasons (www.giftsfourseasons.com)
Canvas On Demand (www.canvasondemand.com)
Although these sites offer much more than blankets, those are still my personal favorite, and what I would find the most use for. Whichever you choose for yourself (or a gift), I'm sure you'll be satisfied with it.
Most Recent Comment(s):