Recording With Your iPod

By
.(JavaScript must be enabled to view this email address)
October 06, 2006
|
Share

Del.icio.us
MicroMemo
I'm the type of person that uses an audio recorder in everyday life, whether it's sitting in traffic talking to myself or recording one of my story interviews, I'm constantly using it and almost always have it with me. Way back when I was very much younger, and known as the young Alison Young (my maiden name), I had a big hunking cassette recorder to catch myself and my friends singing pointless, yet humorous songs. Or a more practical use was taping my piano and viola lessons so I could perfect my music. Then into the college years I was a little more hip with the "tiny" micro-cassette recorder for lectures. Then after that, and it wasn't too long ago, the digital recorder came along. These days you can find those just about everywhere, and easily export the files to your computer. But, since I'm a big iPod hog, what a more perfect way to record all my interviews and whatever I need to one device that already plays my music, TV shows and movies.
Recently hitting the market, and catching my attention, are two iPod recording devices for the fifth generation iPods: Belkin's TuneTalk Stereo and XtremeMac's MicroMemo High-Fidelity Digital Audio Recorder. Both draw power from your iPod using the dock connector so you don't have to worry about batteries as you record your lectures, interviews, meetings, podcasts, or whatever you choose.
The Belkin TuneTalk Stereo offers you two high-quality omnidirectional microphones to record in full stereo. You have the option of plugging in an external microphone into its 3.5mm stereo-input jack. Either way, you're all set to listen to your CD-quality audio recordings through your headphones or blast it out loud on your computer's speakers. An adjustable Gain Control Switch provides you instant control over your recording quality in different environments and the changing noise levels around you. The package includes a nifty stand that's about the size of a credit card so you can easily point your iPod towards the sound source for efficient hands-free recording. It is so tiny that you can slip it right into your wallet. The extended dock connector allows you to keep your case on your iPod while it is still connected to your TuneTalk. Belkin's TuneTalk comes in white or black, and no software is necessary to install - the support is already built into your iPod.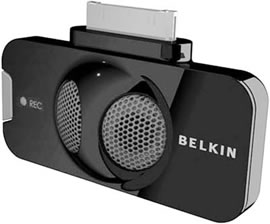 TuneTalk
The XtremeMac's MicroMemo High-Fidelity Digital Audio Recorder is similar to the TuneTalk, however instead of having to playback the recordings on your headphones or computer, you can do it right then and there with its built-in speaker. The sound that comes out of the speaker isn't anything that would win an award, but it does a good job for on-the-spot audio. It also comes with a removable 4.25-inch microphone, and you can use any 3.5mm-sized microphone if you're not happy with the one included. As with the TuneTalk, the MicroMemo comes in your choice of white or black. Additionally, you can choose to record in a low quality or high quality (16-bit audio) format with the touch of a button.
Note that although there are older iPod recorders on the market, they will not work with the new fifth generation iPods. The old ones typically plug into a tab located near the headphone jack, whereas these new ones use the dock connector only. Whichever one you choose, they are both available at the Apple Store in Ala Moana Center (or online at www.apple.com - free shipping on both). Belkin's TuneTalk retails for $69.95 and Xtreme's MicroMemo is $59.95.
Most Recent Comment(s):