Retribution: Neo-noir Crime Drama

By
.(JavaScript must be enabled to view this email address)
May 26, 2010
|
Share

Del.icio.us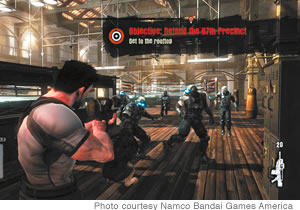 Dead to Rights: Retribution is a reinvention of the crime action series that thrusts you into a mature neo-noir crime drama as you play vice cop Jack Slate with your canine companion Shadow. It introduces an innovative hybrid combat system that seamlessly blends third-person shooting with hand-to-hand brawling and an AI (artificial intelligence) partner.
"We've completely rebooted the Dead to Rights franchise to deliver a satisfying, visceral and action-packed gameplay experience for existing fans and new gamers," says Todd Thorson, director of marketing and public relations at NAMCO BANDAI Games America Inc.
"We're boosting the action up another notch with an accessibly priced DLC pack filled with allnew missions and game-enhancing bonus content."
So you're a burly bullet-resistant cop who does-n't have any issues with punching, kicking or shooting your way through bad guys in the name of justice. These brutal move sets are varied yet uncomplicated, making it easy to fight your way through loads of bad guys.
Your dog Shadow is as loyal as ever, and you'll constantly see him there to lend his teeth and claws to the cause. He'll follow your commands such as "come over here," or "fetch me some ammo." You can even play Shadow and see things from his perspective. If you do this, be careful, since he doesn't share his master's Kevlar outfit. Crouching low allows you to see enemy heartbeats through walls, and you can sprint through enemies to knock them down.
I noticed that although Jack's body armor is excellent, you'll succumb to gunfire if you run around and try to kill everyone at once, so it's best you pick up a gun and use it. Typically you can find them in a crate or just lying around, or steal one from an enemy if you're ambitious. You'll want to fill up your meter, so ...
The game's story of crime and corruption is cliché, but it has a good plot with good voice acting. Throughout the campaign you'll see mostly gloomy alleys, warehouses, docks and industrial areas with occasional fine details (i.e. ads and movie posters). As mentioned above, it's a bit cliché, yet I still found the gameplay to be fun.
Dead to Rights: Retribution retails for $59.99 and you can find it at your nearest Toys n' Joys (toysnjoys.com), GameStop (gamestop.com) or online at Amazon.com. The game is rated M for Mature, so this is not for the keiki.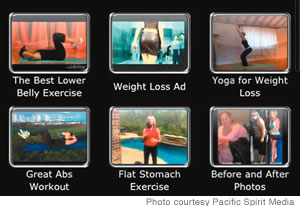 Click Chick's iPhone App of the Week: Lose the Belly
Since I recently had a baby, I still have 10 more pounds to lose before I reach my pre-pregnancy weight. The Lose the Belly app provides some good exercise tips I can use to possibly accomplish my goal, especially with weight loss around the stomach area.
The app provides nutrition information, before/after photos, methods of celebrity weight loss, videos on how to tighten the abdomen, a weight loss yoga sequence, slimming clothes tips and more. Download it for free at the iTunes App Store.
Most Recent Comment(s):