Rock Band is rockin' the holidays

By
.(JavaScript must be enabled to view this email address)
December 28, 2007
|
Share

Del.icio.us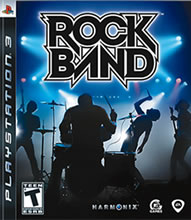 Earlier this week you may have read about what I received for Christmas. Something else that made its way under the tree is Rock Band, one of the hottest video games to hit the market this Christmas season. Rock Band is the game for a wannabe music star or someone who loves to rock.
For review purposes, I have the PlayStation 3 version, and from what I hear, it's similar to the Xbox 360 version. The guitar gameplay is very similar to Guitar Hero, but it takes some getting used to.It com- bines the four essentials of a band - guitar,bass,drums and vocals into one game.
The singing portion reminds me of SingStar - you match your vocal pitch to the meter while singing to the lyrics that appear on your screen.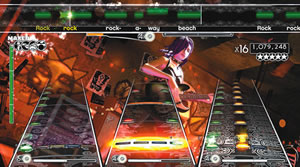 Then there are the drums. I had the most fun playing the drums.
I've never played real drums before, but this definitely gave me a taste of it. The drum kit has four color- coded pads and a kick pedal. As with the guitar play, you hit and match the corresponding color notes to what appears on your screen. Two of the pads act as tom- toms; the others,a snare and a crash cymbal. When you see the open bars, this is the opportunity for you to improvise and hit those drum pads randomly to your heart's content.
Fifty-eight songs come pre-loaded on your Rock Band game disk, with song genres ranging from alternative and classic rock to heavy metal and punk. You're not limited to these songs since you can download additional content. The available items are frequently updated and include multi-song packs, full albums or individual songs.You can purchase three-song packs from Metallica, The Police or Queens of the Stone Age for $5.49/pack or $1.99/track. Individual tracks from Foreigner, Wolfmother, The Runaways and other bands are $1.99/track. Be on the lookout for more, as these will constantly be updated.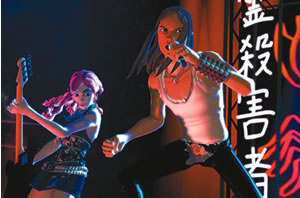 "We are excited to unleash some of the most beloved rock songs of all time for consumers to customize their Rock Band game experience - for an amazing price,"said Paul DeGooyer, senior vice president of MTV Games."The overwhelmingly positive response from artists, managers, music publishers and record labels has set up a queue of fantastic tracks that will continue to roll out every week."
I enjoy Rock Band as much as Guitar Hero III - it's difficult to say which is better. Rock Band is definitely a superior party/group game since more people can par- ticipate. The guitar that comes with Rock Band seems to be cheaply made in comparison to the Guitar Hero one, and the pedal on the drum feels as if it will break if you push it too hard.However,the Rock Band guitar is larger with a longer neck, bigger fret buttons and a sec- ond set of fret buttons for solos.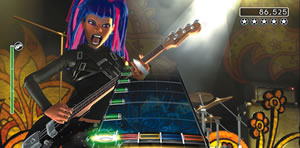 One of the best game features is the graphics. The animation on each musician is detailed along with eye-appealing visual effects. Unfortunately the band world tour mode is not available online, so you can't play with your friends that are logged on. The co-op mode is probably the most convenient for a party, since you can just pick up the instruments and go. Overall, the
game is a bit pricey, but if you enter- tain guests often, it's worth it. Rock Band is rated T for Teen and available for PlayStation 2 and 3, and Xbox360. Prices are $49.99/$59.99 (game only) to $159.99/$169.99 (comes with gui- tar controller, drum controller, microphone and game disk). Find it at your nearest Best Buy (www.bestbuy.com), GameStop (www.gamestop.com) or online at www.amazon.com.
Most Recent Comment(s):