Rockin' out with Guitar Hero III

By
.(JavaScript must be enabled to view this email address)
November 16, 2007
|
Share

Del.icio.us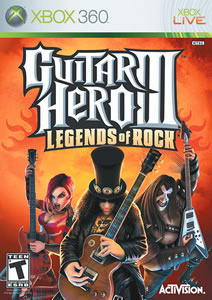 When I received my copy of Guitar Hero III, it somehow evaporated from my hands and magically appeared in my husband's before we even reached the door to the house. Before I even touched my guitar, much less knew what happened to it, he plugged it into our Xbox 360 at the speed of lightning and completed the entire game on Medium mode in less than three hours - all the while still fully dressed in his work clothes, shoes on, glued to the TV with guitar stuck to his arms/hands, and no bathroom breaks. No comment.
If you're not familiar with Guitar Hero, a quick rundown: You have a guitar controller with five fret buttons and a strummer. The notes appear on the screen, and you push the colored buttons on your guitar that correspond to the colors that pop up. How well you do in the game depends on how good you are at pushing the notes when they pop up on the screen. It's basically a good exercise in hand-eye coordination.
Activision/RedOctane's Guitar Hero III: Legends of Rock has been out for about a month now, and it has rocked its way to the top of the charts. By its seventh day out on the market it broke more than $115 million in sales. Now some of the songs featured in the game are helping the artists' sales too, particularly the unlockable track Through the Fire and Flames by DragonForce. Clearly, this is not only a game, but a great promotion tool for bands as well.
The DragonForce song is one of the more difficult tracks, and it will make your fingers fall off, so it's a good thing that it is only a bonus. In total, Guitar Hero III features about 70 tracks from a variety of rocks eras. For the classics, you see Santana's Black Magic Woman, ZZ Top's La Grange and The Rolling Stones' Paint it Black. For the modern stuff, you see The Killers' When You Were Young, or Bloc Party's Helicopter, and it wouldn't be complete without the alternative Red Hot Chili Peppers' Suck My Kiss or Pearl Jam's Evenflow, to name a few.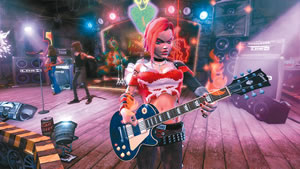 The best added feature is the wireless guitar controller. You can still use your old wired guitar, but the wireless gives you the freedom to roam all over the room with it and not worry about getting tangled up as you're dancing, etc. There are various modes you can choose from to progress through the game. The Career lets you unlock new songs and venues, earn cash to buy songs, characters, guitars and other gear. Co-op Career is almost the same thing, but with your partner. If you just want a quick fix, the Quick Play lets you jump in and play any song that you've already earned, unlocked or downloaded.
You can log onto Xbox Live and play against others online, and overload their amps, break their strings or drain their rock meter before they knew what hit them. The only problem with these games is that it can happen so fast that your games with your opponents will not last very long in some instances.
Overall, Guitar Hero III rocks! The gameplay is about the same compared to the previous Guitar Heroes. This version may not be the most user-friendly game to someone who has never played Guitar Hero, as the songs are a little more difficult, especially in the Hard and Expert levels. It still makes an excellent party game, as long as you have two guitars. With the example of my husband, you can see Guitar Hero III is extremely addicting…once you complete the easier levels, then you'll want to start it all over again on the Expert level.
Guitar Hero III is rated T for Teen and is available for the Nintendo Wii, PlayStation 2/3 and Xbox 360 at your nearest GameStop (www.gamestop.com), CompUSA (www.compusa.com) or Best Buy (www.bestbuy.com).
The prices vary from $49.99 to $129.99, depending on what platform and if you purchase the bundle pack with the guitar.
Additionally, right on time for Christmas, PC and Mac versions will be released in December. Go to www.guitarherogame.com/gh3 for more information, and the iTunes Store has the Guitar Hero III songs if you're interested in listening - type in "Guitar Hero III" in the search box to find them.
Most Recent Comment(s):