Room-to-room tunes with Eos Wireless

By
.(JavaScript must be enabled to view this email address)
January 30, 2009
|
Share

Del.icio.us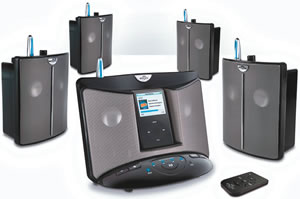 A little gift my husband brought back for me from Macworld was IntelliTouch's Eos Wireless, a multiroom speaker system for iPods. I've always wanted a way to stream music throughout the whole house, and this Eos Wireless does the trick. It transmits your iPod's music to any room with up to four speakers (150 feet range). All the units have a built-in surround sound and a sub-woofer.
It was intriguing to rip open the box, since most iPod docks are meant for use in one room only. I set up the main console in the kitchen and the other three speakers in the living room, bedroom and upstairs hallway. It was an absolute breeze to set up - a truly easy, out-of-the box, complete house sound solution. While plugging in the remote speakers, the first thing I noticed was each antenna blinking blue, immediately recognizing the wireless signal from the base station.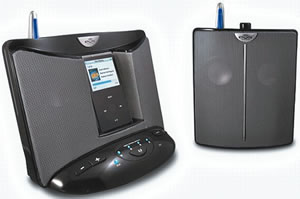 At first I turned the speakers up all the way to see what the system could do (each speaker's volume is controlled individually and manually by turning the knob). The Eos Wireless' concept of having wireless speakers work all over the house is great. The wireless works flawlessly, but the sound quality is not so great if you play your music loud.
There is almost no bass, and you can't adjust it or the treble (it also depends on the song).
In addition, it does not charge an iPhone 3G, but it charges the first-generation iPhone or an iPod touch with no problems.
If you have it playing somewhat softly as background music, it sounds really nice. But again, if you're really listening to your music and rocking out to those sounds, the speakers are not the best, but good enough for functionality. If you don't care that much about the lack of bass and are more interested in the concept of listening to music wire-lessly anywhere around your house, then this will work for you as a relatively inexpensive way to set up entire-home audio.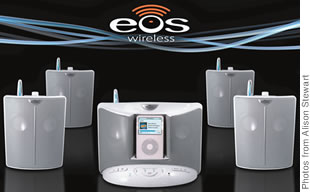 Eos Wireless comes in black or white and retails for $249.95 on its website (http://www.eoswireless.com) or Amazon.com. Right now there's a $169 special if you purchase a white one. This includes the base station and one satellite speaker. Each additional speaker retails for $139.95 ($99 each for the white special).

Click Chick's App of the Week: iSteam
When I was a kid, I looked forward to bath/shower time, partially so I could wait for the mirrors to fog up and draw pictures all over the place. For those grown-up kids who still do this, you can now create the same effect on your iPhone touch with iSteam. It has absolutely no practical value, but it's fun and made a ton of money for its creators, with the download mark at well over 1 million.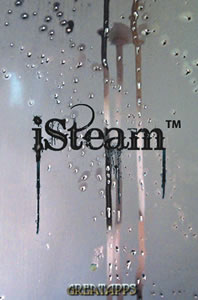 You can choose your own background picture from your photo library, and to "fog up the glass," you blow on the microphone (sorry, can't do that on the iPod touch since there's no mic). The harder you blow on your microphone, the quicker the haze forms. This makes your whole iPhone interface fog up with steam, complete with condensation and drips (thanks to steamX physics). When you write something on it, you'll hear the finger squeaking sounds as you would on a real mirror - good sound effect.
You also can shake your iPhone to completely clear the screen.
This app costs 99 cents and is well worth it for a little pointless fun (if anything, it's a fun way to pass your friends notes).
Most Recent Comment(s):