SceneCaster's Immersiv 3D Viewer

By
.(JavaScript must be enabled to view this email address)
August 27, 2008
|
Share

Del.icio.us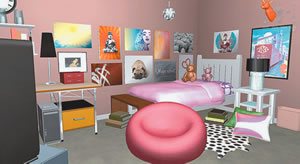 SceneCaster, a web place to create and share 3D scenes, which launched successfully in September 2007, is an online community where you can visually share your ideas and make them real. Adding to its popularity, SceneCaster recently announced the Immersiv 3D Viewer, an innovation that allows you to enjoy an immersive 3D experience in your browser with no plug-in or download requirements.
This Immersiv 3D Viewer is a significant enhancement with SceneCaster's ability to offer you a way to create, share and interact with web-based 3D scenes, and is embeddable anywhere online. You can use pictures of your own home's rooms to help you choose color schemes and furniture, then click through and buy your items from e-commerce sites such as Amazon, eBay or Kohler.
"We have always been committed to providing our users with the very best experience for the creation and distribution of 3D content and social media," says Mark Zohar, founder and CEO of SceneCaster. "With the launch of our Immersiv 3D Viewer, we are continuing to lower the barriers for the use and adoption of user-generated 3D content. At the same time, we're also enhancing the user experience by allowing users to add their own photos, slideshows, music and videos to their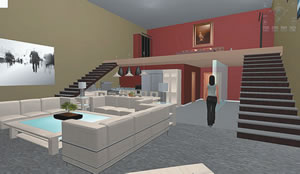 3D scenes, and share their personal con-tent any-where on the Web using our new Immersiv 3D Viewer."
The Immersiv 3D Viewer allows you to look around, zoom and interact with your created 3D scenes right in your browser. SceneCaster's patent pending contextual commerce and advertising capabilities allow you to connect to relevant ads, offers and those e-commerce websites, making this a turnkey for your shopping needs.
Also, for the business side, there are opportunities to create and publish 3D immersive scenes or "showrooms" to drive brand engagement and viral marketing campaigns.
An example: A movie studio may create and publish a 3D scene, such as a movie theater or media room, that features an upcoming movie trailer that can be viewed directly in the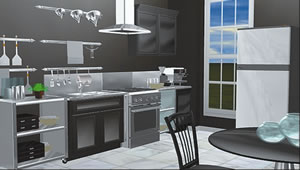 Immersiv 3D Viewer. Under the hood SceneCaster is a web-based 3D application that runs in a normal Internet browser. It uses a drag-and-drop interface with access to a large catalog of 3D web content. The SceneCaster 3D scenes can be shared, viewed and interacted with on your browsers, including your iPhone. The Immersiv 3D Viewer added the ability to pan, zoom and interact with the 3D scenes with no additional download requirements, as well as the ability to add in your own photos, slideshows, music or videos to your 3D scenes.
With more than 1 million registered users, SceneCaster has emerged as one of the fastest-growing 3D web applications, and you can share your scenes on Facebook (social networking website) or Flickr (photo sharing site). A huge drawback is if you're trying to build your own scene, it does not work on the Mac platform, only with Windows (XP or Vista). I realized that after I tried it in different browsers on my MacBook Pro - Netscape, Firefox and Internet Explorer. The word is that it will be Mac compatible soon.
Try SceneCaster and the Immersiv 3D Viewer for free at www.scenecaster.com.
Most Recent Comment(s):