Seeing The Light On Plant Care

By
.(JavaScript must be enabled to view this email address)
August 19, 2009
|
Share

Del.icio.us

"Hellooooo, time to water me!"
That is exactly what I need to hear from a plant if it wants to survive. Plants and I don't exactly mix well. If I'm caring for one, it usually ends up in death for the plant. It's not that I forget to water it; I just can't seem to add the correct amount of water. I think I have a tendency to be stingy with the water I pour into it because subconsciously I don't want to "waste water."
The funny thing is my friend just asked me to water her plants while she's gone on a monthlong trip. I don't think she realizes that I'm probably the worst person to trust with plants. Lucky for me, her plants are still alive for now (after two weeks), but I hope they are still at least green when she returns. I'm making a conscious effort to put more water in than I usually would.
All this jogged my memory about a little gadget called the Thirsty Light. This is the Click Chick's solution to successfully living with a houseplant.
This cool invention is an intuitive digital plant moisture sensor that flashes an LED light to let you know your plant is getting dry. It's designed to be unobtrusive when you leave it in the plant's soil, as it continuously monitors the moisture level once per second. It contains a circuit called DryPoint, which can sense five different levels of dryness and blinks faster and faster as the soil becomes more dry. When it reaches level five (completely dry), it puts the device into standby mode to conserve its energy, and it double blinks every three seconds.
While there are many soil detectors on the market that detect the conductivity of the soil (if there's enough water, the salts in the soil dissolve and send a tiny current through the electrodes), the Thirsty Light uses a patent to actually interpret the readings it receives. These are not cryptic readings. If it blinks, you'd better give your plant water. The Thirsty Light is probably the most appropriate for indoor plants, but I suppose you could use it on your outdoor plants if you live in a dry area and have no sprinklers. You can turn it on and off, move it around from plant to plant, and you can change the battery when it gets weak.
For more information or to purchase a Thirsty Light, check out http://www.thirstylight.com. It's $12.99 for one, $32.97 for a three-pack, $59.94 for a six-pack, or if you want to be safe, a 12-pack is $107.88.
---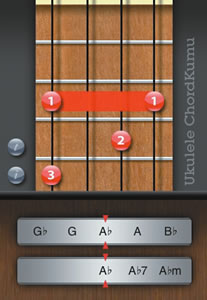 App of the Week: Ukulele Chord Kumu
If you grew up in Hawaii, chances are you learned how to play the ukulele at some point in your life. Sadly, the last time I even picked up one was most likely in intermediate school, so it's been a long, long time. Ask me to play a song for you now and I'll just give you a blank look. Maybe this new app, Ukulele Chord Kumu, can help refresh my memory.
Made right here in Hawaii, Ukulele Chord Kumu was released a couple of months ago by father-and-son team Joe and George Uno. It has more than 100 ukulele chords with finger placements that you can use on your iPhone/iPod touch. The app also includes a hands-free tuner to help you tune your ukulele, and a little ukulele history lesson. Find it at the iTunes App Store for $1.99 or visit http://www.kuawaroad.com for more information.
Most Recent Comment(s):