Share your mojo for free, baby

By
.(JavaScript must be enabled to view this email address)
October 19, 2007
|
Share

Del.icio.us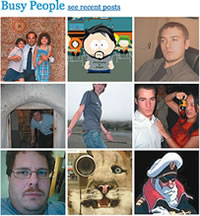 When I hear the word "mojo," the first things that come to my mind are the Austin Powers movies and how he always talks about his mojo. Dictionary.com defines it as "the art or practice of casting magic spells, magic or voodoo."
But the mojo I want to share with you is MojoBaby, a mobile blogging service that allows you to upload pictures, videos and text instantly from your cell phone for free.
What sets this apart from other services is the fact that you can quickly upload these things from your phone while you're out and about, and they can appear on your website instantly.
If you're into blogging or social websites such as MySpace, your life will become easier with this MojoBaby. It's been in the beta testing phase for a few months, but now it's ready for you with full functionality, including the updated MojoPlayer with the new widgets. The GIF widget allows you to share your MojoBaby content on websites that do not allow standard flash widgets.
"The GIF widget is a very interesting way to share content in areas that are closed to the standard flash widgets," says Scott Miller, founder and COO of MojoBaby. "We are still pushing the limits of this technology, but to my knowledge we are the first social network to create widgets in this manner."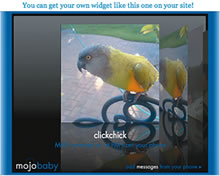 You easily customize the size and looks of your widgets, then when you're finished, just copy the code and paste it into your MySpace, Blogger or whatever website you're using. Then, voila, you have real-time feed of all the pics and video you're uploading.
The added search and community tools with the update allow you to see all your recent posts on the site that have not been marked as private. You can even give your friends and family access to post items by adding on their e-mails and phone numbers to your account.
This could also be useful for a group blog. "I have always envisioned
MojoBaby as an easy way to instantly share what you are doing with your friends and family," says Miller. "This update has answered a number of requests from our community for additional functionality.
Now community groups, news organizations, families and schools can use MojoBaby to effectively reach their audiences and instantly share important events." As long as your phone can send e-mail or do MMS (Multimedia Messaging Service) you can use it with MojoBaby.You might have to contact your service provider to make sure MMS is activated on your phone. It's usually included with text messaging packages, especially if you have a camera phone. The video uploads are limited to 5MB and you can upload as many photos as you want.
If you have privacy concerns, the only information the public can see is what you post, so it's up to you. You also can choose to set your profile to private so that you won't appear in the "most recent posts" page. As with other blogs, you can add friends and post comments to each others' pages.
Overall, it seems the player is probably the most useful thing about MojoBaby, since it creates a nice interactive moving widget with an easy way to upload via your cell phone. The fundamental idea behind the website's ability to move pictures and videos from a mobile device to the web is great and should be taken advantage of. The site is so new it's hard to determine which way it will go. It will depend on how many people participate to make up its community and make it flourish.
To join and sign up for your free MojoBaby account, go to www.mojobaby.com
Most Recent Comment(s):
For all comments click here.