Shopping For A New Compact Camera

By
.(JavaScript must be enabled to view this email address)
May 05, 2010
|
Share

Del.icio.us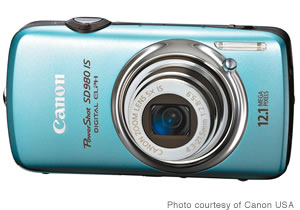 It's been years since I bought a compact digital camera as I've been getting by with my iPhone and Canon EOS Rebel SLR. Now that I have a baby, I wanted something pursesized and good enough to capture the precious moments in high-resolution and High-Definition (HD) video without having to tote around my SLR camera.
As I was camera-hunting, I set my spending limit at $300, and I promised myself I would not go a penny over that. Mission accomplished: I found everything I needed and more for $250 with Canon's 980IS.
Just visually, I admire the colors it comes in: silver, blue, purple and gold. The colors give the camera a fun look, almost its own personality. Functionally, there's a 3-inch LCD touchscreen that makes navigating through images and menus convenient. The touch response isn't as smooth as an iPhone/iPod touch/iPad, but it's better than no touchscreen at all. As you're flipping through your pictures/videos, you can view them three different ways: by physically flicking the camera, using the touch-screen or with the good ol' button. Flicking the camera back and forth, left for the next image, right for the previous image, is cool, but it can be a little annoying if you accidentally move the camera in a certain way. The touchscreen works but can be slightly frustrating since it's not as responsive as my iPhone. The fastest way to go through the pics is with the button.
There are not many compact cameras that can do HD video, so one of the biggest deciding factors for me to purchase the 980IS was the ability to shoot HD video. It records 720p HD video, plus it has an HDMI output for easy playback onto your HDTV without having to involve a computer in the process. This 12.1-megapixel camera includes a 5x optical zoom lens with an ultra-wide 24mm lens and optical image stabilization.
The 980IS isn't the latest and greatest, but you receive a great package for the $250 price. The best place to find it is on Amazon.com (free shipping). It took mine less than a week to arrive.

Click Chick's iPhone App of the Week: Kokua Traffic
If you have a long commute to work during rush hour, one of your first thoughts when you wake up in the morning is probably, "How much traffic is out there right now?" At least that's one of my thoughts as I'm getting ready for work. Kokua Traffic is a local-grown app that uses Google Maps as a base, and displays the last 20 accidents and incidents on the road with red pins (dynamic incident indicators), along with your location (blue dot) and some good places to eat along the way (green pins).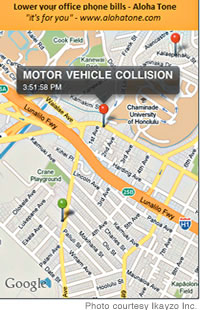 The app has a great concept, but I would love to see it link up to the Honolulu City & County's traffic cameras to get visuals. Thankfully, with future phases of this app, the link to the traffic cams will come. Showing the accidents/incidents with pins is good, and the information loads fast. However, since I've been testing this out, most of the accidents/incidents were two to four hours old, some even up to six hours old, with no recent activity. The idea of the app is for you to see where you are in relation to the latest accidents and what time they occurred, so you can take an alternate route if needed.
If you want to check this out, download Kokua Traffic for free at the iTunes App Store.
Most Recent Comment(s):