Shopping For A Webcam

By
.(JavaScript must be enabled to view this email address)
April 22, 2005
|
Share

Del.icio.us
Annie Takano from Mililani writes: "I'm thinking of getting a webcam but I have no idea what is the best to get. I tried to do a Yahoo! search, but a lot of things came up and it's too complicated for me to 'understand' all those things. I want a camera that I can be able to use for sending video e-mails and instant messaging. I've seen some of my friends' cameras, but I don't like the ones that seem like you're watching a slow motion movie. But please, don't recommend something that's way too expensive."

Well , Annie, as you did your Yahoo! search, you know there are tons and tons of web cameras out there, but I think I've got just the one for you. The Creative WebCam Live! Ultra
was just released earlier this month and it's the newest edition to Creative's line of webcams. The WebCam Live! Ultra
is very user-friendly and offers decent quality resolution. The resolution on the video is 640x480 pixels and the still pictures are 1.3 megapixels. The video quality is smooth and clear, however the color may come out slightly flat and dark if you're in a low light situation.
Not only will this camera work beautifully for your purposes of instant messaging and video e-mails, it also does smart face tracking. The camera follows and zooms in on your face as you move.
It also comes with a microphone headset that allows for better privacy and clearer voice over the Internet compared to a built-in microphone. The wideangle lens of the WebCam Live! Ultra
captures a 50 percent wider field of view than a typical webcam, perfect for including family and friends in the video with you. You can also use it for remote monitoring. The camera is set off by its own motion detector and then uploads still images to an FTP site that you can view. The Live Ultra is available for $99.99 at CompUSA or www.CompUSA.com!
— you can prepay for it online and pick it up at your nearest store. Note that it is compatible for both Windows and Mac. For a portable option, there's the Creative WebCam Live! Ultra for Notebooks that have the same features available for the same price.
If you use a Mac, the iSight
works great with iChat AV. It's also very easy to use and has a 640x480 pixel resolution with an integrated dual-element microphone that suppresses ambient noise (so your voice comes through loud and clear). The iSight is available for $149.99 at the Apple Store
in Ala Moana Center or at www.apple.com
.

About Video E-mail
So now that you have a webcam to play with, you're all set to do interactive instant messaging and send video e-mails. What is video e-mail? It's an email with a video file inserted into the body of the message. This avoids the problems of sending messages with actual video attachments. Video files are usually too large for most people to send or receive, and in general, some people just don't want to open e-mail attachments. Companies also use this technology to do email marketing, such as movie trailers. All you need to do this is a webcam and video e-mail software.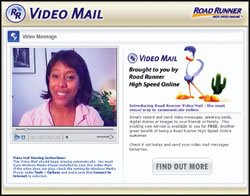 For those of you who subscribe to Ocean Time Warner Cable's Road Runner service, video e-mail is already available to you at no charge. When on the homepage (www.hawaii.rr.com) click on the member services link and when you scroll down a little bit, you'll see the Road Runner Video Mail information. Click on the link and download the software for free.
Unfortunately this Road Runner service is not compatible with Macs. Note that you do not need any special video e-mail software to receive the messages.
Another freebie is through Microsoft Outlook 2003. If you don't have the video e-mail add-in, download it for free at www.microsoft.com. There's also MyVideoTalk (www.myvideotalk.net). The plans range from $11.95 to $189.95 per month for consumers and businesses. These are only available for Windows. "V-mail" is the newest fun way to communicate face-to-face with family and friends.
.(JavaScript must be enabled to view this email address)
Most Recent Comment(s):
Commenting is not available in this weblog entry.