Showing off your keiki on TotSpot

By
.(JavaScript must be enabled to view this email address)
June 13, 2008
|
Share

Del.icio.us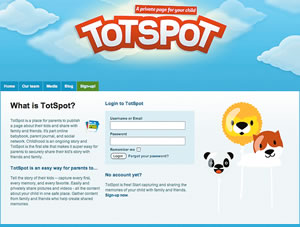 There's something about this year and babies. I know at least five gals who gave birth within the last six months! That in mind, a new website was launched a couple weeks ago called TotSpot.com. It's a site for you parents to publish a private and secure page about your keiki to share with family and friends. It's part online baby book, parent journal and social network - basically a private/secure version of MySpace or Facebook for toddlers.
TotSpot is uniquely designed around the needs and wants of parents with children ages 0-12 and expectant mothers. You can create life stage-oriented content such as Firsts (milestones - smiles, trips/activities, friends, words, etc.) and Growth Charts as well as share photos/videos.
All content on TotSpot is time-tagged so that memories can be cataloged and organized into an elegant and compelling narrative.
"Parents have a deep desire to share the story of their children with friends and family," says Michael Broukhim, co-founder of the website. "TotSpot is the first site to provide a simple and safe destination to do this all in one place."
Knowing that, the biggest concern you probably have is your keiki's safety and security. TotSpot's privacy settings prevent anyone from seeing your child's page unless the parents (or guardians) have explicitly invited that individual.
TotSpot's stats feature enables you to know exactly who has visited your keiki's page.
TotSpot believes in data portability, and the "Your Kid, Your Content" policy ensures that you always "own" the content about your children.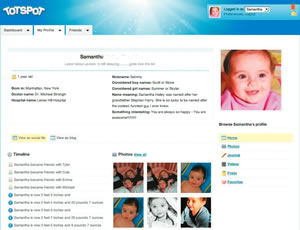 "There are very few social networks that are doing that," says Jeremiah Owyang of Forrester Research. "It's an indicator that TotSpot really cares about their customers owning their own experiences." Since I don't have any kids yet, I used the closest I have to a child to set up the account -my parrot Duncan. I added in as much information as I could, including his growth chart (although fully grown at 8 inches and a weight of 5 ounces), journal updates (what he ate and the toys he played with) and Firsts (foods, trip, kiss and words). I also easily uploaded his photos from my Flickr account. In addition, it gives you the option to grab photos from your Picasa, SmugMug or 23hq accounts.
TotSpot was founded by Broukhim and Adam Katz, two recent graduates of Harvard University. Both come from tight-knit extended families, and the inspiration for the site came from their experiences receiving updates from friends and family members about their children."We noticed that our family members shared a lot of content about their kids via e-mail, and we thought there must be a better and more compelling way to do this," says Katz. "When we discovered that there wasn't, we started building TotSpot."
Obviously there are certain items I cannot update - many of the Firsts: holding a bottle, losing a tooth, school, book, rode a tri-cycle, etc. Despite that, I think this can sort of work for pet owners. After all, they are your babies, too!
As with Twitter, TotSpot is built on Ruby on Rails, a free web application framework designed to make web development quick and efficient. There's definitely something unique about this website. Tell all the new and expecting parents in your life about it - www.totspot.com.
Most Recent Comment(s):