Shrinking Huge Files Down To Size

By
.(JavaScript must be enabled to view this email address)
March 19, 2008
|
Share

Del.icio.us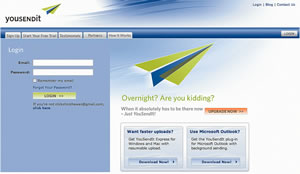 One of my biggest pet peeves is when someone tries to send me an e-mail attachment that is several gigabytes big. Not megabytes. Gigabytes. Yes, it actually happens, and I won't mention any names. For the record, typically when you need to transfer a file that is very large (several megabytes and of course gigabytes big), you usually either burn it to a CD/DVD/external (thumb) drive or place it on an ftp (File Transfer Protocol) server to transfer it to your recipient, not e-mail it.
So you don't clog up anymore e-mail in-boxes and cause frustrations, you should try YouSendIt instead. It had a nice little booth at Macworld this year, and I happened to be standing next to Sinbad while I was getting my YouSendIt demo. Anyway, the program enables you to transfer large files by using YouSendIt's server. It's a great alternative to an ftp server for businesses, or if you're a regular consumer, it keeps your large file transfers (i.e. sending video files or multiple pictures) clean. Since the company's initial launch in 2004, it claims to have transferred more than 500 million files to date with 30,000GB of data per day.
"Our corporate and individual customers send, receive and track more than 7 million files every month. The assured delivery of these files is critical to complete their business communication workflows," said YouSendIt CEO Ivan Koon. "YouSendIt enables companies to increase productivity, revenue potential and customer satisfaction by simplifying the tasks to send, receive and store business critical documents across company boundaries."

Tens of thousands of companies have already incorporated YouSendIt Corporate into their workflow as a mission critical solution. Because of this, YouSendIt recently created the Corporate Suite to help further businesses eliminate the issues with sending large files. It offers password protection and certified delivery with tracking (automatic digital rights management features).
"We created YouSendIt Corporate Suite to help businesses worldwide eliminate the hassles and expenses associated with sending large files," said YouSendIt founder Ranjith Kumaran. "Cutting costs and increasing productivity are vital for companies to stay competitive in the marketplace and we're excited to contribute to that success."
Whether you're a business user or consumer, you can upload your files via the web, Plug-ins (Outlook, Photoshop, CorelDRAW, Aperture or PaperPort), or by installing YouSendIt Express onto your computer (PC only). Your recipient then receives an e-mail containing a link to where they can download your files.
As a test I sent a 530MB-sized file to my brother. That took about an hour to upload, and about the same for him to download. Probably a little slow, but not bad for my new free large file transfer solution.
YouSendIt has four different plans: Lite (free, 1GB monthly download bandwidth limit); Pro ($9.99/month, 40GB limit); Business Plus ($29.99/month, 200GB limit); Corporate Suite ($99.99/month, no limit). Log onto www.yousendit.com for more information and to setup your free account.
Most Recent Comment(s):