Simple, User-friendly Cell Phones

By
.(JavaScript must be enabled to view this email address)
November 28, 2007
|
Share

Del.icio.us

Jitterbug
Cell phones have come a long way since the days of the classic big gray "brick" that only people with loads of money owned.
Nowadays just about everyone has a mobile phone, yet most of the phones available on the market are too complex for the average nontechnical person to figure out.
For those of you included in that technophobe category, or if you just desire a simple, bare-bones phone, there are two that will make your life easier: the Coupe from Verizon Wireless and the Jitterbug.
The first thing I noticed when I first opened up the Coupe is its extreme simplistic design. There's no Bluetooth, no camera, no messaging, no Web browsing, just a plain old phone. I know that does-n't sound too glamorous, but at least it looks good with its shiny black coating, and it's perfect for emergencies, since there's a dedicated 911 button, and programmable I, C and E buttons (In Case of Emergency).
Other features include a calculator, alarm clock, calendar, stopwatch, notepad, tip calculator and speakerphone (separate key). It can hold up to 500 names, with the ability to assign each with one of your 25 ringtones or alerts and a caller ID picture. You also can do voice dialing, and there are easy-to-see color codings for volume control (white), the battery charging port cover (red) and the headset port (blue).
The Coupe is compact at all of 3.8 inches small, and has a large font size for the screen. I took it to a few places around the island and the signal was always good with no dropped calls. The big buttons make dialing a breeze, especially if you have trouble seeing the keypad, or if you just have big fingers. In addition, you'll receive about 3.6 hours of talk time or 9.5 days of standby time.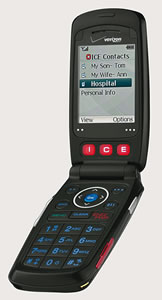 Coupe 1
The Coupe is $19.99 with a two-year Verizon Wireless agreement. If you're 65 or older, you'll qualify for one of the America's Choice 65 Plus calling plans, that include unlimited IN calling to more than 60 million Verizon Wireless customers, domestic long distance and monthly minute night and weekend allowances. Call Verizon Wireless at 1-800-2-JOIN-IN or visit www.verizonwireless.com for more information.
The Jitterbug phones are made by GreatCall/Samsung, and are similar, yet slightly different since you have 24/7 operator service and no contracts. There are two types of Jitterbugs: the Dial and OneTouch. The Dial has simple "Yes" and "No" buttons along with a large, backlit keypad, and the OneTouch has three main buttons, "Operator," "Tow" and "911."
An interesting thing about the phone is that it has an actual dial tone. Psychologically, that eases the minds of those who are accustomed to hearing that. It makes it mimic a "real" phone. The features are even more basic than the Coupe. It includes voice dialing, speakerphone and a contact list capacity of 50 numbers. You can even have up to 15 numbers pre-programmed in when you order the phone. Of course, you can program your own, but if even doing that yourself is too complicated, you can just dial the operator, and they will edit your contacts list for you. The battery will last about three hours or 8.3 days of standby.
These Jitterbug phones are specifically marketed to our kupuna and are available for $147, along with a monthly fee starting at $10, and no long-term contracts. Visit www.jitter-bug.com to purchase or for more information.
Most Recent Comment(s):