Singing a new iTune with Apple TV

By
.(JavaScript must be enabled to view this email address)
February 22, 2008
|
Share

Del.icio.us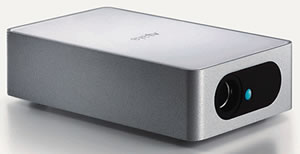 250 Plus
Ah, the Apple TV ...because of its previously limited capability, I never had any desire to own one, so I never bothered to buy or even think about buying one until recently. At Macworld last month, the price was lowered to $229 for the 40GB model, and an added software update made it much more appealing to think about.
Since Valentine's Day was coming up, I decided to cave in and buy one for the husband for his Valentine's Day gift. The funniest thing was that he also bought one for me. Not only that, but we ordered it on the same day, about two hours apart from each other (not that it's important, but I'd like to point out that I think mine was ordered first). So, oh well, there we were, a spoiled couple with an extra Apple TV on our hands. Thanks to the nice folks at the Apple Store, we were able to easily return the spare in-store.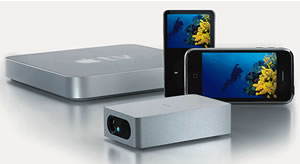 Eye TV
As soon as I plugged in the remaining Apple TV, I synced it to both our computers (one at a time), and now we can watch our iTunes content, including TV shows, movies and rented iTunes movies on the TV through this wonderful device. In addition, the software update allows you to view photos on Flickr, .Mac web galleries, and watch YouTube content. From what I've watched so far, the picture looks extremely clear.
Existing Apple TV owners receive the just-released update for free, and the new Apple TVs will come with it. The larger 160GB model is $329 and both 40GB and 160GB boxes are available at www.apple.com or your nearest Apple Store.
Working hand-in-hand with the improved Apple TV are Elgato's EyeTV 250 Plus and Turbo.264, both featured at this past Macworld. These have been out for a little while, but the EyeTV 250 Plus has been updated, and as with other Elgato EyeTV products, it basically turns your Mac into an alternative TV.
You may have read in my column a couple weeks ago about the analog to digital conversion . . . this could be another solution to that issue. The EyeTV 250 offers the flexibility of a digital and analog TV tuner in one, since it gives you free-to-air digital TV to your Mac (ATSC), unencrypted digital cable (Clear QAM), and conventional analog TV via standard cable or antenna. Best of all, you can record your shows with whatever method you choose to watch them in. From what I had available at the time, I did my test recordings with the conventional analog. Even with that, the picture looked very clear on both my computer and iPhone. I can only imagine how much better the digital would look.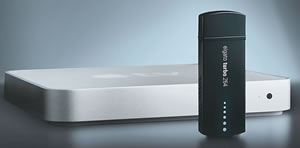 Turbo 264
Honestly the coolest thing about this is the EyeTV2 software. During the setup process you tell it which cable service you subscribe to, can have it search by title, actor, etc. and it displays all the results. Once your desired program shows up, you can have it set to record with the click of your mouse button. It records onto your computer, which you can watch off your iPhone, iPods or, of course, Apple TV. If you're looking to externally burn your videos, the package comes with Roxio Toast 8. For you folks that still have VHS tapes lying around, the EyeTV 250 also has a VHS Assistant that will convert your tapes into digital files.
To complete the circle, Elgato's Turbo.264 lives up to its name and gives you turbocharged exports of your videos so you can watch it on your iPhone, iPods, Apple TV, Sony PSP or the Zune. It won several Editor's Choice awards, including the one from Macworld magazine.
The Turbo.264 accelerates the process of exporting video to the H.264 (MPEG-4) format. Usually when you convert video to this format, it takes up tons of processing power from your Mac. The Turbo.264 takes the strain off your machine and allows you to multi-task and do other things such as surf the web, or in my case write this story. This is also great if you post numerous videos online (i.e. if you're a video podcaster).
EyeTV 250 Plus goes for $199.95 and the Turbo.264 sells for $99.95 at www.elgato.com or www.amazon.com.
Most Recent Comment(s):