Singing the praises of iTunes Plus

By
.(JavaScript must be enabled to view this email address)
June 15, 2007
|
Share

Del.icio.us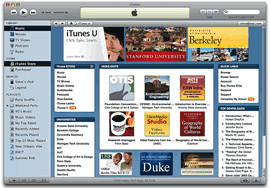 iTunes U
As much as I use and love iTunes, up to this point in time what I've been able to do with the music content has been somewhat limited. That's not the case anymore since Apple launched its new iTunes Plus a couple weeks ago. This version allows you to download music tracks that are free of digital rights management (DRM) issues, meaning you can do whatever you want with this music (for personal use). iTunes Plus songs cost $1.29 and come with a high-quality 256 kbps Advanced Audio Coding (AAC) encoding for audio quality almost indistinguishable from the original records. It launched with EMI's digital catalog of recordings, including singles and albums from Coldplay, The Rolling Stones, Norah Jones, Frank Sinatra, Joss Stone, Pink Floyd, John Coltrane and more than a dozen of Paul McCartney's classic albums.
"Our customers are very excited about the freedom and amazing sound quality of iTunes Plus," said Steve Jobs, Apple's CEO. "We expect more than half of the songs on iTunes will be offered in iTunes Plus versions by the end of this year."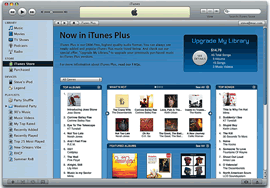 iTunes Plus
The iTunes you currently know and love will continue to offer you its entire catalog, with more than 5 million songs at the original 128 kbps AAC encoding with DRM at 99 cents per song, alongside the higher iTunes Plus versions when available. iTunes Plus automatically searches through your existing library and looks for tracks that are upgradeable from previously purchased EMI content. If you choose to upgrade, the charge is 30 cents per song or $3 for most albums.
The upgrade process is very easy. The first step is to make sure you have iTunes version 7.2. You then can sign into the iTunes Store, click on the "iTunes Plus" icon, and then "Upgrade My Library." This does a sweep of your library and tells you how many of your tracks are eligible for an upgrade. After going through with the upgrading you'll see a message that says "Your iTunes Plus music is currently up-to-date. There is nothing more for you to upgrade. Check back often as iTunes Plus music is continually being added."
After doing this, you'll definitely see a difference in the song sizes. For example, one of my 128 kbps songs is about 3.5 MB, but the 256 kbps encoding nearly doubles it to a 6.7 MB size.
Also note the file extensions change from .m4p (128 kbps) to .m4a (256 kbps).
The best part about this new iTunes Plus is that you can download tracks from your favorite EMI artists without limitations on the type of music player you use or the number of computers on which purchased songs can be played.
EMI music videos are now also available in iTunes Plus versions with no change in price.
The iTunes Plus songs you purchase from the iTunes Store will play on all iPods, Mac and Windows computers, widescreen TVs equipped with Apple TV, iPhones (soon to be released), and just about any other digital music players.
"This is a tremendous milestone for digital music," said Eric Nicoli, CEO of EMI Group. "Consumers are going to love listening to higher-quality iTunes Plus tracks from their favorite EMI artists with no usage restrictions."
The iTunes Store is still my favorite, and offers you the world's largest catalog with its selection of more than 5 million songs, 350 television shows and more than 500 movies. It's hard to believe that the iTunes Store has so far sold more than 2.5 billion songs, 50 million TV shows and more than 2 million movies!
If you're picky about your sounds, Apple's iTunes Plus tracks are definitely worth the extra 30 cents, but it's all up to you and your musical preferences. If you don't have iTunes yet, check it out at www.itunes.com.

iTunes U On another iTunes note, Apple also announced iTunes U, a dedicated area within the iTunes Store that features free content for students. You'll see course lectures, language sessions, lab demonstrations, sports highlights and campus tours provided by top U.S. colleges and universities (i.e. Stanford University, UC Berkeley, Duke University and MIT).
Even if you're not a student, the iTunes U feature allows you to easily access useful educational material from multiple respectable universities and colleges. iTunes U was created in collaboration with these schools and is downloadable onto your iPod.
Most Recent Comment(s):