Snowboard In Your Living Room

By
.(JavaScript must be enabled to view this email address)
June 09, 2006
|
Share

Del.icio.us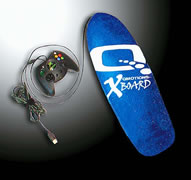 Xboard
I became attached to snow-boarding thanks to years of my brother's influence and his own addiction to it. Unfortunately, snowboarding isn't something you can do year 'round - you're limited to winters - unless you have the means to go extreme and take a helicopter ride to the highest mountain you can reasonably find. To sort of overcome this issue, you can either go to the video arcade and waste tons of money on a snowboard simulator or buy your own snow-board for your living room. I personally choose the latter.
The Qmotions-Xboard enables you to enjoy today's most popular snowboarding, skate-boarding or surfing games (arcade-style) in the comfort of your living room.
You feel like you're in the game with titles such as SSX, Amped and the Tony Hawk. The Xboard will connect to your Xbox, PS2 or your PC to provide you with that lifelike board sport experience.
It also provides an excellent way to stay in shape with all the balancing you need to do on this board. It may be small, but it's a challenge to stay balanced.
You may remember the iJoy Board I wrote about back in March. Well, the Xboard is much smaller and significantly cheaper. The Xboard is so small you could pack it in your luggage if you feel possessed to travel with it. It will also cost a little less than $100 (as opposed to $400 for the iJoy Board).
Other products Qmotions offers include Qmotions-Baseball, Qmotions-Golf and Qmotions-FunFitness. The recently launched Baseball delivers full motion player participation with popular PC and console-based video games. Just step up to the plate with your provided Batter-Up sleeve-equipped bat and swing. You can do all of the full swing batting, bunting, pull, up-the-middle and opposite- field hitting.
The Qmotions-Golf Full Motion Game Controller ($200), similar to Real World Golf, gives you a way to play golf indoors with your favorite golf game titles such as EA Sports' Tiger Woods PGA Tour and others. Lastly, soon to come is the Qmotions-FunFitness Full Motion Game Controller (under $100, to be launched soon). It turns your exercise bike into a video racing game. It is compatible with most stationary recumbent bikes. It's easy to install on your bike,
with no tools necessary. It works with racing games such as EA SPORTS' NASCAR Chase for the Cup 2005. If your bike is collecting dust in the corner, this will hopefully get you motivated to do something.
Each one of these devices has its own way of promoting fitness and are alternative methods of staying somewhat fit. For more information or a list of retailers, check out www.qmotions.com.

Tools For Life Tech Expo This Weekend. The majority of us take the simple things in life - the gift of sight, hearing, speaking or even having all our limbs - for granted. My mom is a retired rehabilitation teacher for the blind, so while growing up I would always hear stories of the blind and how they live. She taught me to be thankful for my sight, and I'm definitely thankful. I have learned to live with partial hearing loss resulting from a head injury in a past violent relationship. It's fortunately not bad enough to require a hearing aid. I just count my blessings and realize that I'm still alive, I can see and I can mostly hear.
For those not as fortunate, the Tools for Life Expo 2006 this weekend will feature the newest devices and technology now available for the disabled.
It will offer a wide selection of exhibits and educational presentations regarding assistive technology, products, services and laws affecting the lives of people with disabilities.
Knowledge of these new devices is important for people who are suddenly disabled in their adult years, or employers and businesses who may be missing out on potentially valuable employees or customers because their worksites are not accessible.
The exhibits at the Tools For Life Expo will emphasize products and services to assist persons with disabilities in daily living with a focus on technology for use at home, the community, school or at work. A few product examples include the Dynavox Technology video-phone for the hearing impaired, the Amigo portable magnifier for people with low vision, or the BrailleNote mPower, which is similar to a laptop computer but smaller and Braille and audio enabled. This allows a blind individual to wirelessly share files, surf the web, e-mail, stream audio, download and "read" a book, and translate Braille files to regular word files so those who do have sight can read it. There will also be a GPS device that will help blind individuals find their way around in terms of "paces."
Additionally, Microsoft will be launching a new platform upgrade to its new operating system called VISTA. This is one of the biggest advancements for people with disabilities in the work force, as Microsoft Office is one of the most widely used programs in the workplace. The Tools For Life Expo is open free to the public beginning Friday, June 9, noon to 6 p.m. and Saturday, June 10, 8 a.m. to 3 p.m. at the Hawaii Convention Center. Parking is $5, but the public is urged to use public transportation. The Handi-Van is offering eligible riders (who make reservations in advance: 523-4083) free transportation to and from the expo.
Most Recent Comment(s):