Snowboarding - Bluetooth Style

By
.(JavaScript must be enabled to view this email address)
January 20, 2006
|
Share

Del.icio.us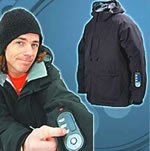 Last year I had my first experience snowboarding down the slopes of Whistler, Canada. It was so refreshing to feel the rush of the crisp, cold air rush past me as I flew down the mountain with powder flying in my face. Needless to say, it was a blast!
Before I went on my journey to the cold, I decided to purchase some snow gear, but back then, there was nothing worthy I could call techie snow wear.
Thanks to Motorola's and Burton's first in a new line of products, now there is such a thing. The Audex Jacket provides slope enthusiasts the ability to enjoy music and phone calls with little or no interruptions. When phone calls come in, the sleeve's control panel allows you to check caller ID and control your iPod (Generation 3 or newer, excluding the iPod shuffle) without taking either out of your pocket. For the phone functions, you can do one-touch voice dial, make a call, end a call and mute with the convenience of the control panel. As for the iPod functions, you can do one-touch volume up/down, play/pause and track forward/back.
Stereo speakers are built into the hood of the jacket and a microphone is embedded in the upper section near the collar, which are integrated to the controls. The control module, speakers and microphone can easily be removed before washing while the washable connectors remain inside. Your phone and iPod zip up safely into specially designed pockets for a perfect fit, so even if you happen to take a spill on the way down, your toys won't go flying out of your jacket.
The jacket's battery lives in the chest pocket and is rechargeable with a Motorola adapter. The Audex Jacket series includes three styles available in sizes S-XL: Burton Audex Cargo Jacket (Colors: True Black, Mocha, Blue Frost), Burton Audex Down Jacket (Colors: New Brick, Granite, True Black) and the Women's Audex Duffel Jacket (Colors: True Black, Khaki, Mocha Plaid).
I know that Hawaii isn't really known for snow-boarding, but I know a lot of people who make the trek to the slopes to experience the thrill of fresh powder every year, my brother being at the top of my list. If you're that crazy, and want to talk and listen to tunes wirelessly on the slopes, the Audex jackets sell for about $600 at www.burton.com. The Audex line will also include Bluetooth-equipped Audex Protective Gear, including the padded helmet and the padded hat.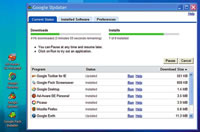 Packing Google. I guess Google must have been reading my mind when it came out with its new functional software pack. At the recent Consumer Electronics Show 2006, Google announced Google Pack, which is a free collection of essential and useful software from Google and other companies. Previous to that I already had every piece of the Google Pack software installed on one of my computers.
The software in the Google Pack helps you browse the web quicker, remove spyware and viruses, organize your photos, to mention a few of its offerings. It takes the hassle out of downloading, installing and updating software. You can download and install the entire Google Pack with just a few clicks. The included Google updater helps you discover new programs and keep your current software up to date.
Google Pack includes the following:
* Google Earth: Fly from space to your neighborhood with 3D satellite images. You can type in an address and zoom right in. Obtain driving directions, find maps, hotels, restaurants, etc. Use the tilt and rotate function and you can view 3D terrain and buildings.
* Picasa: Keep your photos always organized. Use this find, edit and share your photos easily. It also is capable of easily fixing red eye and cropping/fixing your favorite pictures. It automatically locates all pictures on your computer (even the ones you forgot about) and sorts them into visual albums.
* Google Pack Screensaver: Use photos from your library to view as a screensaver (either full-screen or as a collage).
* Google Desktop: A desktop companion search application that provides full text search over your e-mail, computer files, music, photos, chats and webpages that you've viewed. You can consolidate all your personalized information with its Sidebar feature.
* Google Toolbar for Internet Explorer: You can keep the power of Google's search engine close at hand since it puts a search box in your browser, making it easier to find what you're looking for from whatever webpage you may be on. It does autofill and blocks annoying pop-ups.
* Mozilla Firefox with Google Toolbar: Browse the web quickly and securely with this award-winning browser. It protects you from viruses, spyware and popups. Switching between pages is simple with tabbed browsing.
* Ad-Aware SE Personal: This gives you advanced protection from known data-mining, aggressive advertising, Trojans, dialers, mal-ware, browser hijackers and tracking components. It will safely detect and remove spyware and protect your privacy with its capabilities.
* Adobe Reader 7: Use this to view, print and search PDF files. Version 7 launches up to 50 percent faster than Reader 6.0.
* Norton Antivirus 2005 Special Edition: This is probably the best one of them all! Normally you would have to purchase this, but protect your computer from viruses, worms and Trojan horses. It comes with six months' worth of subscription updates.
If you already have some of these programs installed on your computer, the Google Updater will check to see if you have the latest version. If you do not, it will install the latest version.
Additionally, if you do not want everything the Google Pack has to offer, you can customize your install to the components you want. Pack up Google Pack for yourself at pack.google.com. At this time it is only available for Windows XP (downloadable with Internet Explorer 6.0+ or Firefox 1.0+).
Most Recent Comment(s):