Solving The Blu-ray/HD DVD War

By
.(JavaScript must be enabled to view this email address)
January 17, 2007
|
Share

Del.icio.us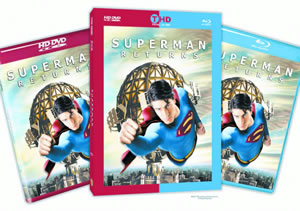 Attending this year's Consumer Electronics Show (CES) in Las Vegas last week made my head spin with numerous new gadgets to enhance your digital life. There are too many to fit into one story, so my next few columns will cover things I saw at CES (and MacWorld, San Francisco, too).
First I want to share with you two things that will help fight the Blu-ray/HD DVD war - LG Electronic's Super Multi Blue Player and Warner Home Video's Total Hi-Def (THD) disc.
But before I start on that, if you don't know what Blu-ray or HD-DVD is, in a nutshell they are both next generation DVD discs. The fight between the two is similar to how it was with Betamax (Beta) and Video Home System (VHS) back in the 1980s.
LG's player is the industry's first dual-format High Definition (HD) disc player that blends the latest technologies by offering the convenience to play both Blu-ray and HD DVD discs. This new player will go hand-in-hand with LG's expanded lineup of full HD 1080p plasma and LCD HDTVs with the highest display resolution.
"We've developed the Super Multi Blue Player to end the confusion caused by the current competition between Bluray Disc and HD DVD," says Dr. Hee Gook Lee, president and chief technology officer of LG Electronics. "Customers are no longer forced to choose between the two formats. As Full HD TV is already gaining ground, we are hoping that the Super Multi Blue Player will play the trigger role in expanding and advancing both full HD TV and the high definition DVD market volume together," he adds.
In addition to offering full HD 1080p picture quality from these high definition discs, the player incorporates interactive functions based on BD-Java, which allows advanced menus and functions to be displayed over the video of Blu-ray discs.
This option is unfortunately not available on the HD DVD discs. You can also play all your MPEG-2, VC-1, H.264 video, MPEG 1/2 audio, Dolby Digital, Dolby Digital+, DTS and DTSHD audio formats. You'll be able to find LG's Super Multi Blue Player (BH 100) soon, within the first quarter of this year, and it will retail for $1,199.
The second solution out there is Warner Home Videos Total Hi Def Disc (THD). I took my friend Eva with me to attend the extremely informative and interesting announcement presentation hosted by Warner
Bros. Entertainment, and we found out that this revolutionary disc will play Blu-ray on one side and the HD
DVD format on the flip side. Who can beat that? That will make it easier for you to make a decision when you're standing in front of the store shelf trying to decide which format to buy. Just buy the one that has both on it.
The demonstration we saw of the THD disc featured Superman Returns, played with LG's Super Multi Blue Player. If you saw the movie, we watched the gripping scene where Superman stops a crashing plane and lands in the middle of a baseball field. First the Blu-ray side played, then the HD DVD side, and you couldn't see any difference between the two. They both looked awesome!
"The Total Hi Def Disc is about giving consumers complete choice, providing creators and artists the greatest possible distribution of their work, and helping retailers thrive in the marketplace," says Kevin Tsujihara, president of Warner Bros. Home Entertainment Group. "By eliminating potential apprehension over formats, we believe this new disc could help consumers fully embrace the greatest home entertainment experience available."
The disc itself has the ability to contain single and dual layers for both formats, enabling either 15 GB or 30 GB on the HD DVD side and 25 GB or 50 GB on the Blu-ray side. Since THD was just announced to the world, no titles are confirmed at this time. The price is to be determined, and it will hit the market in late 2007.
Why worry about what to buy? Both options are a win-win situation.
Most Recent Comment(s):