Sony Showstoppers At E3 2009

By
.(JavaScript must be enabled to view this email address)
June 17, 2009
|
Share

Del.icio.us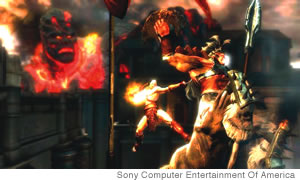 God of War III: spectacular graphics
Continuing with Electronic Entertainment Expo (E3) thoughts from last week, Sony had a basketful of goodies to share with the world. The main highlights were some PlayStation 3 (PS3) exclusives: God of War III, Unchartered 2 and a new concept called MAG (Massive Action Game). On top of that, a new PSP (PSPgo) was announced.
The most anticipated game at E3 this year was the action-adventure, single-player God of War III. This is the final installment to the hugely popular God of War series, and you again play as Kratos, the angry ex-Spartan warrior seeking his revenge against Zeus and the gods of Mt. Olympus. The graphics are spectacular and the action is nonstop. You can now ride some of the mythological creatures to transport you around, and new weapons such as the Cestus allow Kratos to learn new ruthless techniques. The game's trademark detailed gore and violence are enhanced on the PS3 - definitely not for the keiki. God of War III comes out in March 2010 (Rating: RP for Rating Pending).
Uncharted 2: Among Thieves is the fresh single-player, action-adventure shooter follow-up to last year's hit - Uncharted: Drake's Fortune. You are Nathan Drake, a fortune hunter with a shady reputation and an even shadier past who is lured back into the treacherous world of thieves and mercenary treasure-seekers. The game's backdrop keeps it varied with locations ranging from lush green swamps to dense urban environments to ice and snow of the Himalayas.
The added unrestricted combat allows you to take an aggressive or stealthy approach to combat with traversal gunplay, free-climbing mechanics and variety of enemy types with advanced AI routines. The launch date is slated for late this year (Rating: RP).
MAG is a first-person shooter game that is played exclusively online, and the next evolution in gaming. It lets you experience battles with up to 256 real people across a global battlefield. MAG is able to manage a large amount of players by breaking them into squads of eight. You climb your way up the chain of command to take control of your eight-person squad, then 32-person platoon and ultimately your 128-person army.
The game takes place in a dark future 2025 where food shortages spark riots, currencies plummet, fuel reserves are dwindling and oil-producing nations ration what remains. A MAG beta is available to download, but the official release will be late this year (Rating: RP).
Last but not least, the PSPgo is for those who prefer to not carry around the typical PSP disc-based content. The PSPgo replaced the UMD drive with 16GB of flash memory to download and store a variety of digital entertainment content using the PlayStation Store. It's a flip-style system that will come in white or black, and features Bluetooth, Wi-Fi and a smaller lightweight design that will fit into your purse or pocket. The regular PSP will continue to be sold alongside the PSPgo, which will retail for $249 starting Nov. 1.

Click Chick's iPhone App of the Week: KHON
2 Mobile Local News
Last month KHON became the first Hawaii TV station to release an app for local news. This app takes a combination of KHON's newscast and website and rolls it into your iPhone/iPod touch. Designed and developed in partnership with DoApp, KHON 2 Mobile Local News makes it easy and convenient to click and scroll through local news and weather. In addition, you can catch national and international news, sports scores, entertainment news and weird news. Click the "Share" button within a story and you can easily share your story via e-mail, text, Twitter or Facebook.
Find the KHON app for free at the iTunes App Store.
Most Recent Comment(s):