Sony's annual expo and OLED technology

By
.(JavaScript must be enabled to view this email address)
November 02, 2007
|
Share

Del.icio.us
Next week Sony is set to unveil its latest and greatest to Hawaii. From Nov. 6 to 8, the 2008 Sony Expo "HDNA: High Definition. It's in our DNA" will feature the prototype of its new OLED (Organic Light Emitting Diode) TV, along with its new lineup of products. With Christmas right around the corner, this expo is a perfect place to start your shopping.
OLED technology is the next generation for displays, as it has many advantages over today's LCDs (Liquid Crystal Displays). OLEDs are thinner, lighter and self-illuminating (no back-lighting required), and feature a 1,000,000:1 contrast ratio, producing the industry's clearest images. They are known for vibrant colors, high contrast, excellent grayscale, low power consumption, a wide range of pixel sizes, and a thin and lightweight form factor. OLEDs can also be printed onto just about any appropriate surface with an inkjet printer, making it popular for flexible surfaces, such as a roll-up display.
The typical response time for an OLED is about 0.01 milliseconds, versus 12 milliseconds for a standard LCD. As good as OLEDs are, the biggest drawback is the limited lifetime of about 5,000 hours because of the organic materials. In comparison, a typical LCD receives about 60,000 hours of use.
You currently see OLEDs in cell phones, MP3 players, car radios/navigation systems, digital cameras or medical devices. The tricky part is scaling an OLED up to the popular larger TV sizes. Sony is the first to officially bring such a TV to the consumer market.
At the Consumer Electronics Show earlier this year I had the opportunity to see two OLED TVs in Sony's exhibit - an 11-inch and 27-inch. Sony is slated to release its 11-inch amazingly thin 3mm XEL-1 OLED TV in Japan next month, with a price tag of about $1,745. Unfortunately, no U.S. version has been officially announced.
In addition to Sony's OLED, you'll be able to see the following products at the upcoming expo:
BRAVIA LCD TV - A full line-up of BRAVIA LCD flat panel TVs ranging in size from 26 inches to 70 inches.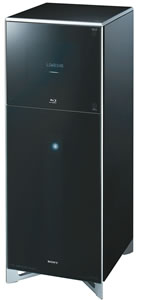 Home Entertainment Server
Blu-ray Disc Player - The next generation of high definition 1080p resolution player with the broadest selection of HD movies.
Walkman Video Player - Sony's first video MP3 player that supports audio and video open format files.
Smile Shutter - A new feature on Sony's Cyber-shot cameras will automatically spot and snap the picture when a person smiles. Never again miss that smile!
Home Entertainment Server (HES-1000) - For the audio/video aficionado, an innovative solution for organizing personal media collections with its built-in 500GB hard drive that can store up to 137 hours of video, 40,000 songs or 20,000 digital photos. It also has a 200-disc Blu-ray Disc changer and a Bluray Disc burner.
HD Handycam Camcorders - Your home movies will never be the same when you experience the true-to-life HD quality on these new HD Handycams.
The 2008 Sony Expo "HDNA: High Definition. It's in our DNA" is free, open to the public, and will be at the Ala Moana Hotel, Hibiscus Ballroom. Hours will be 10 a.m.-9 p.m. Nov. 6 and 7, and 9 a.m.-1 p.m. Nov. 8.
For additional information, call 834-6611.
Most Recent Comment(s):