Sony's New Slimmer, Lighter PSP

By
.(JavaScript must be enabled to view this email address)
August 01, 2007
|
Share

Del.icio.us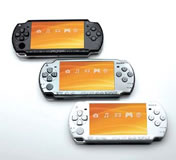 If you're an avid gamer, you may have heard that the Electronic Entertainment Expo (E3) was held a couple weeks ago. Its format was changed dramatically this year to a more exclusive business-oriented environment. This is the first year I did not attend because of that, and actually, some say it will be the death of E3. I tend to agree, based on reports from attendees.
But despite that, there were a few decent highlights. One of them is Sony Computer Entertainment's (SCEA) new slim-mer, lighter PlayStation Portable (PSP) to hit store shelves soon.
The new PSP is a sleeker, streamlined version of the original PSP I know and love. It's 33 percent lighter and 19 percent slimmer than the current version, and weighs less than half a pound and is about 3/4-inch thick. The PSPwill have a more efficient battery, much slimmer, yet still gives you the usual five hours of power. You can still use your old PSP battery to double your usage time, but you won't be able to cover it with the battery cover. Sony will eventually offer a high-capacity power kit that will come with its own PSP cover to cover your old, larger battery. Before your batteries completely drain, you can now conveniently recharge via the USB connector.
The built-in system memory has doubled from 32MB to 64MB, and your game load times will likely increase with the UMD data being stored in the temporary memory. The 4.3-inch display is the same as before, but now you have the added ability to output your game-play, movies or photos to your TV! That can make things interesting.
The standard newly designed PSP will come in a "Piano Black" color, and there also are two limited editions. First is the Daxter PSP Entertainment Pack, featuring a PSP in "Ice Silver" along with the award-winning game, Daxter, "Family Guy - The Freakin' Sweet Collection" on UMD, and a 1GB Memory Stick PRO Duo. Secondly, the Star Wars Battlefront PSP Entertainment Pack has a "Ceramic White" PSP with a silk-screened image of Darth Vader on the back of the unit. It includes Star Wars Battlefront: Renegade Squadron, the next chapter of the best-selling Star Wars Battlefront series from LucasArts.
We are very pleased to be taking part in the global roll out of the newly designed PSP, while providing something unique for users in North America," said Jack Tretton, President and CEO, SCEA. "In response to consumer interest, we're offering additional colors as part of this enhanced design to match users' personal styles and interests. The Star Wars Battlefront bundle in particular is a great opportunity for consumers to get on board with a collector's edition 'Ceramic White' PSP. Also, the new video-out port, which gives consumers the option to enjoy PSP content on the big screen, brings a whole new dimension to the PSPexperience."
Something interesting to think about is since the initial PSP launch in 2005, there have been a total of 250 games and 450 feature films, TV programs and videos from major studios released for it. On top of that, SCEA plans to make more than 140 PSP software titles available this fiscal year, including the E3 award-winning God of War: Chains of Olympus for the PSP. Other key featured titles include Jeanne D'Arc, NBA'08, Parappa the Rapper, Pursuit Force, Extreme Justice, SOCOM U.S. Navy SEALs: Tactical Strike and Syphon Filter: Logan's Shadow.
I'm not sure how good this new PSP really is, but you'll be able to find it soon on the market. The PSP Core Pack will be $169.99 and the Daxter PSPEntertainment Pack $199.99, both available in September, and the Star Wars Battlefront Entertainment Pack will hit the shelves Oct. 9 for $199.99. Check out www.us.playstation.com.
Most Recent Comment(s):