SoulCalibur: Broken Destiny For PSP

By
.(JavaScript must be enabled to view this email address)
September 30, 2009
|
Share

Del.icio.us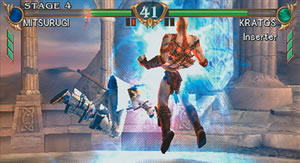 Namco Bandai Games recently released SoulCalibur: Broken Destiny, its latest in the SoulCalibur series - but this one is exclusively for Sony's PlayStation Portable (PSP). Broken Destiny is the title's handheld iteration that gives you the signature SoulCalibur weapon-based fighting formula on the go.
You have 28 characters to choose from and they're available right from the beginning without having to unlock anything. If you're a SoulCalibur follower, you'll see some of your old favorites along with some new faces - even a special appearance by Kratos from the God of War game. I was surprised to see him in there, but it's fun to play his character. In addition, you can create your own character from scratch with the customization tool for physical appearance, apparel and gear. Unlike the characters, these other options need to be unlocked. They're purely aesthetic since there are no point bonuses associated with what you're wearing.
For the average user. this game is very easy to grasp right from the start. All you need to do is experiment with the buttons while you're fighting your opponent, and you'll eventually figure out the basic horizontal/vertical attacks, kicks and swings with whatever weapon you're armed with.
Chances are, without reading the manual, you won't know what every button does, but if you hit the square button (when you're in the character select menu), that will give you information about your character along with combinations to special moves. Additionally, if you don't feel comfortable jumping right into the fights, you can practice your overall strategy with over 80 exercise missions, and use your fighting skills and advanced techniques/combos in the training mode.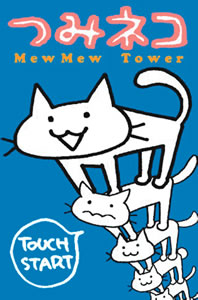 Overall, I think SoulCalibur: Broken Destiny packs a powerful punch and is a must-have PSP game. The fighters are detailed with smooth/natural animation, the ad hoc multi-player mode works well, and the best part is that I can have SoulCalibur available to play right in my purse. The only disappointment I have with the game is the lack of online play, but at least there's an option to play against your friends with the ad hoc mode.
SoulCalibur: Broken Destiny is rated "T" for Teen and retails for $39.99.
Find it at your nearest GameStop (gamestop.com), Toys N Joys (toysnjoys.com) or on Amazon.com. Check out namcobandaigames.com or soulcalibur.com for more information about the game.

Click Chick's iPhone App of the Week: MewMew Tower
MewMew Tower has been out for awhile, but I didn't find it until last week when I saw it on my brother's iPhone. It's such a simple game, but so addictively fun. Your goal is to stack as many cats as possible on top one another without making the whole pile topple over. The key is to heap the kitties in a straight line to maintain good balance. Don't move your iPhone/iPod touch around too much because it affects your tower's integrity. In the beginning of a game, you'll see small cats and think to yourself, "Oh, easy." Then after stacking several of those, the game will throw in some fat cats. Watch out - if you're not careful, those tubbies are the ones that will make your kitty masterpiece come tumbling down. Find MewMew Tower (aka Tumi Neko) for 99 cents at the iTunes App Store.
Most Recent Comment(s):