Spending More Time in Akihabara

By
.(JavaScript must be enabled to view this email address)
May 27, 2009
|
Share

Del.icio.us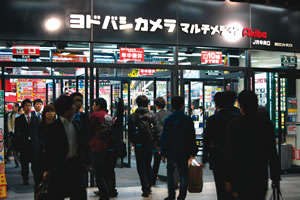 After I bought my Canon EOS Kiss X3 camera in Japan, I couldn't just make one trip to Akihabara, Japan's famous electronic district. I'm so crazy that,on this trip I went there five times! Even at that, I still didn't see everything I wanted to. There was one store that stood out from all the rest ... Yodobashi. Its nine floors kept me there for almost an entire day and sucked up a good portion of my last paycheck. Ouch.
I always thought Fry's Electronics was a cool store to visit when I fly to the Mainland. Although I still admire Fry's, sorry, but it doesn't even come close to Yodobashi. The mixture of stuff I found in the store was amazing - just about every computer, piece of software, TV, camera or little gadget/device on the planet was in this store. I even found a mouse-ear Mickey Mouse iPod charger for my Disney-crazy friend. Cell phones are a whole other story. They took up almost an entire floor - I don't think I've ever seen so many in one place.
One thing for sure, the Japanese love their cell phones. But I was a little surprised to learn that the iPhone isn't very popular there. So much so that Softbank Mobile, the exclusive carrier for the iPhone in Japan, is offering free 8GB iPhones with a two-year contract. Wow, what a deal! According to a poll I saw in a Japanese magazine, the most popular cell phone there is FOMA SH906i. From the outside, it looks like a "regular phone" I normally wouldn't even look twice at. It still wouldn't be my first choice, but I admit it does have some good features: a three-inch touch-screen display that supports TV, FM radio, 3G connectivity (3G is much faster in Japan than it is here), a barcode reader, music/video players and the usual e-mail/web capabilities.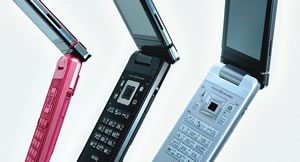 I can't wait to go back to Japan again. There's so much to see and do, not to mention all the tech shopping!

Click Chick's iPhone App of the Week: Top Gun
One of my favorite movies from the 1980s is Top Gun. A couple of weeks ago, I found a Top Gun iPhone app - cool! Yes, it's a little cheesy, but I love it! This game takes you back into the movie, but you're a recruit under Maverick and Iceman, as they're both now instructors at the Top Gun Academy.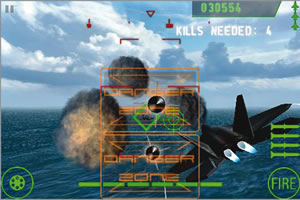 Instead of flying the F-14 Tomcat as in the movie, you're piloting the F-22 Raptor or B-2 Stealth Bomber as you hear the classic Danger Zone song playing in the background (along with other tracks so you don't become tired of the same song). The plane types threw me off since you can't land either of them on a carrier. But other than that, for a little iPhone, the graphics are excellent and definitely add to the game-play. If you're used to playing flight simulators, Top Gun is a breeze. If you're not used to flight sims, the gameplay might be a small challenge, since you have to learn how to navigate properly.
With how polished this Top Gun app is, I was surprised it only cost me $1.99 (during its first week of release). Unfortunately, the price went up to $3.99, but still a small price to pay for a good iPhone game. Find it at the iTunes App Store.
Most Recent Comment(s):